Emotional First Responders: Child Life Specialists Help Ease Anxiety, Fear and Pain for Hospitalized Kids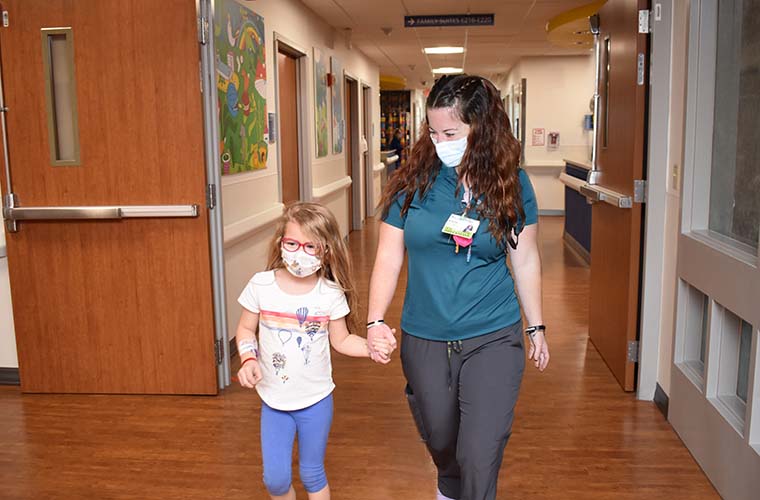 After spending 10 days in her patient room at St. Joseph's Children's Hospital recovering from a serious illness, 6-year-old Kailey was grateful for the chance to take a walk with Child Life Specialist Brianna Wagner.
At first glance, Brianna Wagner's job seems like a playdate between new friends. Her workday may start off with a sing-along in a young patient's room and end with a competitive game of Uno, with finger painting somewhere in between. Coloring books, stuffed animals, LEGOs and bubbles are as essential to her work as a scalpel is to a surgeon.

But take a closer look and you'll discover what she's actually doing is helping kids and families cope with being in the hospital. Brianna is a Certified Child Life Specialist at St. Joseph's Children's Hospital, and uses medical play, education, preparation and self-expression to make things like undergoing a medical test, surgery, getting stitches and missing your friends a little bit easier.

Child Life Specialists are essential members of the pediatric health care team at BayCare's St. Joseph's Children's Hospital, St. Joseph's Hospital-South and Mease Countryside Hospital. These extraordinary team members provide support and advocacy for children experiencing illnesses and traumatic injuries.

Children like 6-year-old Kailey, who recently spent 10 days at St. Joseph's Children's Hospital after being diagnosed with bacterial meningitis.

"The Child Life team went above and beyond to help Kailey feel less anxious and help her still feel like a kid while she was there," said her mother, Victoria. "The first day that we met Brianna, she told us she was there to make things as comfortable and fun for Kailey as it could be."

True to her word, when Kailey was terrified of getting an IV Brianna let her practice placing an IV on a stuffed bear while explaining that the special "straw" needs to be guided in with a poke and will give Kailey the medicine she needs.

"The experience really helped Kailey understand what to expect," Victoria added. "She was still nervous when she got her IV, but it was nothing like how frightened she was before."

BayCare's Child Life Specialists are certified by the national Association of Child Life Professionals and have degrees in fields such as child development, recreation therapy, education, and child psychology. They specialize in working with children in health care settings and provide interventions to meet the psychosocial, emotional, developmental and recreational needs of each patient.

"We work alongside the medical team to help reduce a patient's fear, anxiety and pain, and to provide experiences and interventions that allow them to feel empowered and included in their care," said St. Joseph's Children's Hospital Child Life Supervisor Kacie Webster.

Services provided to patients and families by BayCare's Child Life team include:

Emotional Support
Establish a therapeutic relationship to build trust
Help children cope with difficult procedures
Provide emotional support and encourage expression of feelings
Advocate for patient and family-centered care
Support families confronting grief and bereavement situations
Developmentally Appropriate Support
Explain procedures, diagnosis and the surgery process by using developmentally appropriate language and medical play
Help siblings understand the patient's diagnosis and treatment
Help medical staff understand a pediatric patient's psychosocial and emotional needs
Recreational Support
Provide age appropriate and recreational activities in playrooms, teen lounges and at the bedside to help with hospital adjustment and stress management
Promote normalization by facilitating special events, outdoor activities and leisure planning
Provide opportunities for patients to celebrate treatment milestones, birthdays and holidays
For additional information about BayCare's Child Life services, click here.