All4HealthFL Asks: What Do Our Communities Need?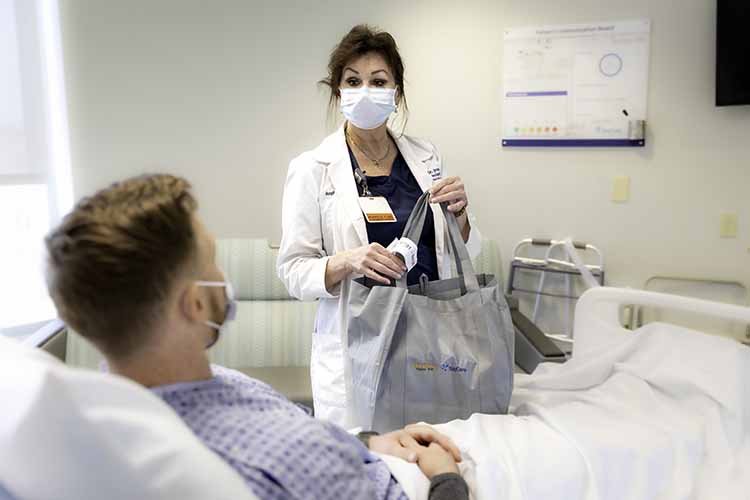 BayCare offers "healing bags" to patients who don't have a secure food source when they leave the hospital.
BayCare is proud to join with the Florida Department of Health in Hillsborough, Pasco, Pinellas, and Polk counties and other local not-for-profit hospitals as the All4HealthFL Collaborative to conduct a comprehensive survey to understand the needs of our communities so they can be addressed.
The 2022 Community Health Needs Assessment (CHNA) survey for the four-county region is now open online until Feb. 28 and anyone in the community can participate. It asks questions related to access to health care, mental health, food insecurity, and overall health and wellbeing. Participation is anonymous.
Results from the survey will help inform efforts by all members of the All4HealthFL Collaborative to improve our communities' health.
It's the second time the collaborative has come together to field a joint CHNA survey with an aim to increase participation for more robust results. Data collected from about 20,000 surveys and other feedback sessions during the 2019 CHNA effort informed several initiatives to address community needs, including:
• Tampa Bay Thrives, a collaboration between health systems, schools, law enforcement and other agencies to impact access to mental health services.
• Mental health first aid courses for first responders, educators, and public-facing officials.
• The launch of school-based food pantries and other initiatives addressing food insecurity.
• The creation of a database of behavioral health providers, reducing barriers in access to care, children's health and safety programming, and so much more.
The members of All4HealthFL are hoping to match the 2019 survey participation rates, even in a largely virtual environment due to COVID-19, while also ensuring a diverse, representative response from the region.
To take the survey visit https://www.research.net/r/healthsurvey_2022. Survey results will be used to develop or enhance programs that address the issues residents are most concerned about.
All4HealthFL is a four-county collaborative of local health departments and not-for-profit hospital systems in Hillsborough, Pasco, Pinellas, and Polk counties. The purpose of the All4HealthFL Collaborative is to improve health by leading regional, outcome-driven health initiatives that have been prioritized through community health assessments. Members include AdventHealth, BayCare Health System, Bayfront Health, Florida Department of Health in Hillsborough, Pasco, Pinellas, and Polk Counties, Johns Hopkins All Children's Hospital, Lakeland Regional Health, and Tampa General Hospital.