BayCare Opens Additional COVID-19 Drive-Thru Test Collection Site in Polk County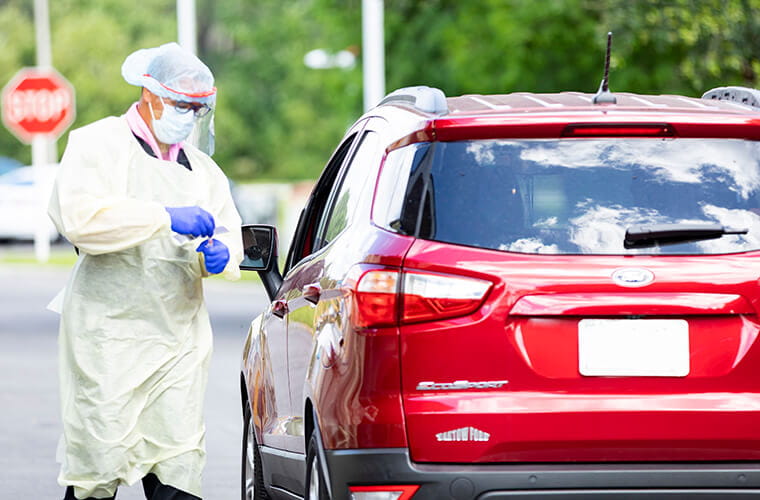 CLEARWATER, Fla. (July 21, 2020) – With demand for COVID-19 testing continuing to grow, Polk County government and BayCare are coming together to establish a drive-thru test collection site at the Gil Jones Center, 3425 Lake Alfred Road, Winter Haven.

Service for the public will begin on Wednesday, July 22. The site will operate Monday through Friday from 7 a.m. to 10 a.m. The drive-thru site will use the back, or west side, of the parking lot.

"We so appreciate that Polk County is supporting us to serve the community," said Jim Cote, senior vice president for BayCare Ambulatory Services. "From the very beginning of this pandemic, we've worked to expand public access to testing so that individuals can confirm if they are COVID-19 positive and need to isolate to prevent the spread of the virus.
Patients are encouraged to bring a referral from a medical provider and those who do not will be screened based on Centers for Disease Control and Prevention guidelines. Testing is offered to all ages.
Testing will be provided on a first-come, first-serve basis with a daily cap based on supplies. Due to the continued challenges with COVID-19 testing supplies, BayCare will regularly evaluate supply lines and adjust operations as needed.
Polk County is underwriting the effort and providing public safety support for the site while BayCare Health System will operate the service. BayCare owns the Gil Jones Center and rents space to Polk County for Clerk of Courts services and to the Polk County School Board to house the New Beginnings High School east campus.
Since March, BayCare has been a leader in West Central Florida in providing public access to testing. The site at Gil Jones Center is in addition to the drive-thru testing site BayCare offers at Bartow
Regional Medical Center. BayCare has also partnered with governments in Hillsborough, Pinellas and Pasco counties to establish drive-thru sites as well as some locations wholly operated by BayCare.
For a full list of BayCare drive-thru testing sites and their hours of operation, go to BayCare.org/coronavirus.
About BayCare Health System

BayCare is a leading not-for-profit health care system that connects individuals and families to a wide range of services at 15 hospitals and hundreds of other convenient locations throughout the Tampa Bay and central Florida regions. Inpatient and outpatient services include acute care, primary care, imaging, laboratory, behavioral health, home care, and wellness. Our mission is to improve the health of all we serve through community-owned, health care services that set the standard for high-quality, compassionate care. For more information, visit www.BayCare.org.