UPDATE - BayCare Shifting Hours for Drive-Thru COVID-19 Test Collection Sites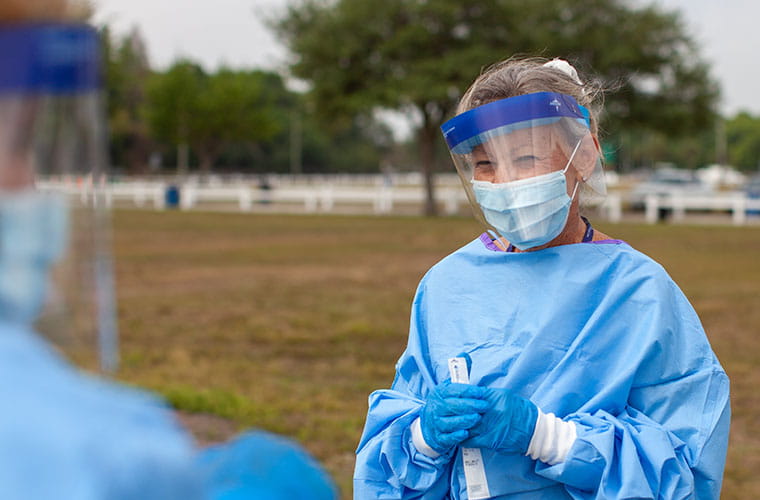 Clearwater, Fla., (April 24, 2020) – With the arrival of warmer weather, BayCare Health System is moving its operations for its drive-thru COVID-19 test collection sites an hour earlier.

Starting Monday, April 27, BayCare's three testing sites will operate from 8 a.m. to 11 a.m. on the following days:

Monday through Friday:
BayCare Urgent Care, 900 Carillon Parkway, Suite 106, St. Petersburg, 33716
Gulf High School, 5355 School Road, Port Richey, 34652


Monday, Wednesday, Friday:
Bartow Regional Medical Center, 2200 Osprey Blvd, Bartow, 33830 (Testing site is located behind the hospital)
BayCare is also supporting the City of Tampa and Hillsborough County testing site. Hours of operation are 8 a.m. to 12 p.m. on the following days:
Tuesday, April 28, and Friday, May 1
Raymond James Stadium, 4201 N. Dale Mabry Hwy, Tampa, 33607
Since March 18, BayCare has used the drive-thru test collection sites to screen nearly 14,000 people across West Central Florida for COVID-19 and collected specimens for testing from nearly 10,000 of them.
"We know that a key piece to controlling the spread of COVID-19 is identifying patients who have it so they can isolate and prevent the spread of the disease," said Jim Cote, senior vice president for BayCare Ambulatory Services.

For more information about the Online Screening Tool, visit BayCare.org/Coronavirus.

About BayCare Health System
BayCare is a leading not-for-profit health care system that connects individuals and families to a wide range of services at 15 hospitals and hundreds of other convenient locations throughout the Tampa Bay and central Florida regions. Inpatient and outpatient services include acute care, primary care, imaging, laboratory, behavioral health, home care, and wellness. Our mission is to improve the health of all we serve through community-owned, health care services that set the standard for high-quality, compassionate care. For more information, visit www.BayCare.org.