Robotic Surgery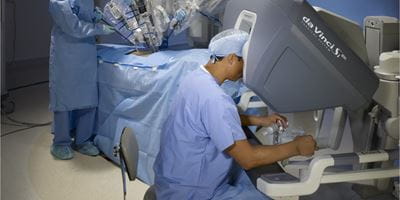 At Winter Haven Hospital, our surgeons are experts in performing gynecologic, urologic, colorectal, and general robotic procedures using the da Vinci® Surgical System, one of the most sophisticated surgical systems available.
Experience and Expertise
Our robotic surgeons receive extensive training in using the robotic surgical system and are highly experienced in performing even the most delicate procedures. With seven surgeons treating a variety of conditions, and the ability to perform more than 20 different robotic procedures, you can rest assured that you'll receive extraordinary care at Winter Haven Hospital.
About Robotic Surgery
The da Vinci Surgical System provides an alternative to traditional open surgery and conventional minimally invasive surgery. During a robotic procedure, your surgeon is at the controls of a state-of-the-art robotic platform. The robotic surgical system enables surgeons to operate through a few small incisions.
Benefits of Robotic Surgery
Robotic surgical procedures offer many benefits compared to traditional or laparoscopic procedures. We always your best outcome in mind and will choose the surgical approach that best suits your needs.
Less pain
Less scarring
Faster recovery
Minimal blood loss
Fewer complications
For a physician referral, please call 1-800-BayCare or find a doctor near you.