Maternal Fetal Medicine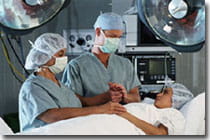 The management of high-risk pregnancies requires knowledge, skill, expertise and strong institutional support. At St. Joseph's Women's Hospital, this service is provided by Florida Perinatal Associates physicians.
As Maternal Fetal Medicine specialists, the physicians have advanced knowledge of the obstetrical, medical, genetic and surgical complications that can occur during a pregnancy and their effects on both the mother and fetus. They are obstetricians/gynecologists with additional formal education and clinical experience within an American Board of Obstetrics and Gynecology approved Maternal-Fetal Medicine Fellowship program.
Combined with a dedicated support staff and state-of-the-art technology, the Maternal Fetal Medicine Department at St. Joseph's Women's Hospital offers the most comprehensive diagnostic and therapeutic methods available today.
Services provided by Maternal Fetal Medicine specialists include:
High-resolution ultrasound, including Level II and 3-D ultrasound
Fetal echocardiography
Genetic counseling
Amniocentesis
Chorionic villus sampling
Cordocentesis
High-risk obstetrical consultation
Services are further strengthened by our level III Neonatal Intensive Care Unit, High-Risk Obstetrics Unit and Maternal Fetal Transport Services.