History of Mease Dunedin Hospital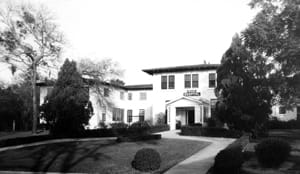 Located in the heart of Dunedin, Mease Dunedin Hospital opened under the guidance of Dr. Jack Mease in 1937 as a 19-bed hospital with a laboratory, cafeteria and operating room.

City residents encouraged Dr. Mease to build a hospital, with the community's help, to serve the health care needs of those living here. Locals worked on the hospital's construction, taking only partial payments in cash for their labor. The balance was taken in medical care. Mease Dunedin truly was a hospital built by the community to serve the community. And it still is.
Today, Mease Dunedin is a modern 143-bed facility, providing quality medical and surgical care, with an emphasis on treating neurological and spine conditions. Mease Dunedin Hospital recently completed a $19 million expansion that includes a new critical care unit and surgical suites.