Stroke Center Medical Director & Team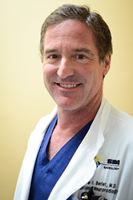 Stroke Response Team at St. Joseph's Hospital:
Immediate Treatment, Better Recovery
Dr. Matthew H. Berlet, Medical Director Stroke Center
Dr. Berlet is a Board-Certified Radiologist with a subspecialty expertise in Neuroradiology. After completing his undergraduate degree at Bucknell University, Dr. Berlet attended The University of Medicine and Dentistry in New Jersey where he attained his Medical Degree. He completed his Internship at Hackensack Medical Center in New Jersey before completing his Residency Program at the New England Deaconess Hospital (Beth Israel Deaconess Hospital). His Fellowship Program was completed at Massachusetts General Hospital.
Dr. Berlet, medical director of the St. Joseph's Hospital Department of Radiology and the Stroke Center, was instrumental in implementing the NOVA procedure at St. Joseph's Hospital. This new procedure is not offered in any other Florida hospital. The Noninvasive Optimal Vessel Analysis technology enables the physician to monitor blood flow to the brain and adjust medications accordingly.

How our Stroke Attack Team works:
The work of the Stroke Attack Team (StAT) is a prime example of St. Joseph's Hospital's commitment to top-flight stoke care. The only program of its kind in the state, it allows for quick diagnosis and quicker treatment of those suffering from a neurological event.
Studies show immediate diagnosis and treatment of stroke symptoms can dramatically improve your prognosis
When paramedics first recognize the symptoms of stroke, they immediately call the St. Joseph's Hospital's Stroke Attack Team, notifying Emergency Department physicians and nurses, neurologists, diagnostic professionals, radiology nurses and stroke nurse that a stroke patient is on the way.
This team mobilizes.
When the patient arrives in the Emergency Department and is moved to a critical bed, the physician and stroke nurse assess and coordinate the patient's care:
All at the same time, nurses draw blood, take a medical history, and place the patient on a heart monitor and oxygen therapy.
The neurologist is called as the patient undergoes diagnostic testing. These tests take pictures of the brain to determine the presence of a blood clot, blockage or bleeding.
The Vascular Lab is alerted, as well as a neuroradiologist.
Neurologists and neurointerventionalists examine all the information to determine appropriate treatment.