Emergency Care Services in Riverview, Florida
If you are experiencing a medical emergency, please dial 9-1-1. For minor illnesses and injuries, visit BayCare Urgent Care for additional information and a list of locations.
St. Joseph's Hospital-South delivers attentive, efficient health care during an emergency, when you need it most. Our emergency room improves the hospital experience for patients in Riverview, Brandon and surrounding areas of Tampa Bay by providing technologically advanced medical services.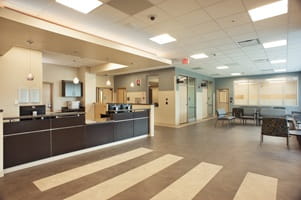 Experienced Emergency Teams
Our experienced team of physicians and nurses treats emergency conditions, provides advanced imaging services and offers surgical services here in the hospital if patients need further treatment. Our advanced catheterization lab provides advanced diagnostic and treatment care. We are committed to providing excellent service to our patients and their loved ones.
Some facts about the innovative emergency room at St. Joseph's Hospital-South:
Each room is private with real doors - this helps to block out the usual noise and hubbub of a busy ER and gives our patients the privacy and quiet they need to rest.
All rooms are state-of-the-art - we use the most advanced electronic monitoring for all of our patients. Further, the entire hospital uses Electronic Medical Records (EMR), which means our clinicians can quickly obtain important information that allows care to be delivered in an efficient manner.
Patient safety is critical - we use bar scanning for medicine delivery, so nurses scan a patient's wristband to ensure patient safety before giving any medication.
Intensive care - state-of-the-art critical care services are available at our Intensive Care Unit.
Emergency Room at St. Joseph's Hospital-South
6901 Simmons Loop
Riverview, FL 33578
Map & Directions
Learn more about emergency services at BayCare.
Pediatric Emergency Center 
We provide compassionate, family-centered care for pediatric patients in our dedicated pediatric emergency center.