Latest Chapter of Father-Son Racing Tale Comes to St. Anthony's Triathlon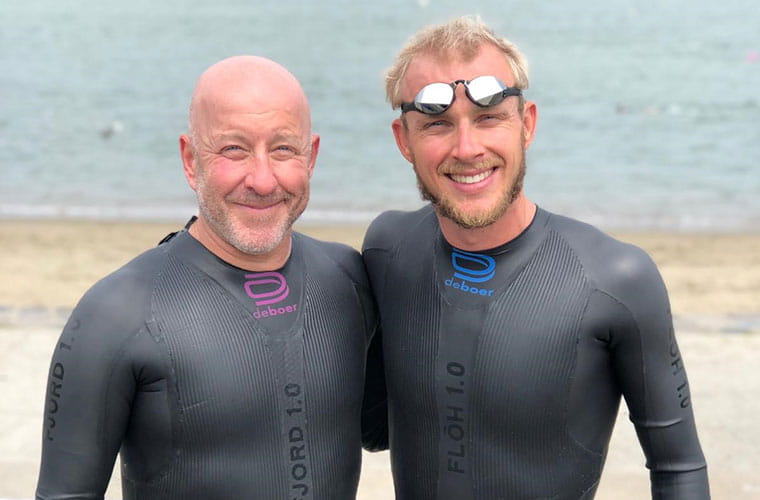 Mike Kanute, left, began coaching his three sons in the sport of triathlon when Ben was very young. When Ben was 12, his father realized that he excelled at the sport.
As one of the sports' top professionals, triathlete Ben Kanute has mastered the art of multitasking and facing unexpected challenges. At this very moment, he is doing precisely that during a Zoom call from his home in Phoenix. Hearing his 16-month-old daughter crying during naptime, he races upstairs to check on her while his dad, Mike Kanute, picks up the on-screen conversation from his law office overlooking downtown Chicago.

Without missing a beat, Ben strides back into view seconds later holding baby Briella and continues relating the amazing Kanute family racing story that will return to the St. Anthony's Triathlon on Sunday. Ben Kanute will be among the 50 professional men and women who are vying to win the race, now in its 39th year.

This time, the narrative features Ben as defending pro men's champion, having won St. Anthony's the last time it was held in 2019. But in a twist, Ben will be joined by his father, racing in the age-group competition – the latest chapter in the father-son triathlon tale that reaches back to Ben's childhood and the youth triathlon club his dad coached in Chicago.

"I've been involved with Ben and triathlon racing from the very beginning," Mike recalls, with the streets of Chicago's West Loop visible on the Zoom screen 32 floors below. "He was very young then. But he got on a triathlon team I helped coach and I was able to watch Ben and his two brothers develop through that. Even when they were kids, the other parents and I who coached would work out with them."

Mike, 57, will never forget the turning point when he realized that Ben had a knack for the sport at age 12. "I was in the water with Ben and other kids, and I thought, 'Okay, here's where I make a move to pass him,'" he says. "I tried but Ben just pulled away from me."

His talented son hasn't slowed down since then – enroute to becoming an elite performer marked by such highlights as 2012 Collegiate National Champion; 2015 USA Triathlon Elite Athlete of the Year; 2016 U.S Olympian in the Rio de Janeiro Games; winner of four consecutive titles in the prestigious Escape Alcatraz Triathlon (between 2017 and 2021); and the winner of St. Anthony's in commanding fashion three years ago. Ben took a big lead in the swim and never trailed – crossing the finish line in 1:46:03, nearly two minutes ahead of the runner up.

Ben, 29, can't wait to return to the St. Anthony's course this weekend to defend his title. "In triathlons, I'd say there are a handful of races at the pro level that are still considered classics of the sport – like the New York City Triathlon, Escape from Alcatraz and St. Anthony's," he says, bouncing Briella on his lap to keep her calm. "St. Anthony's has been around since the beginning. It's such a great event, and they still understand the coolness of having both a professional and age-group field going and keeping the prestige of the race."
That defining feature of the event – holding both the professional and age-group competition simultaneously on Sunday – has brought father and son back to St. Petersburg in a most memorable fashion. Mike actually participated in St. Anthony's in 2004 when his law firm held a meeting in Orlando. While his colleagues played golf during their free time, Mike drove to St. Petersburg to compete in the scenic St. Anthony's Triathlon.

Young Ben was back home in Chicago at the time, but he eventually made his way to St. Petersburg to compete at St. Anthony's in 2013. He was attending the University of Arizona at the time and, though he would be named USA Triathlon's Athlete of the Year that year, he had a forgettable race in St. Petersburg. "It wasn't a great day for me, but I really wanted to come back and do it again," he recalls.

That day would eventually come, but Ben still needed to gain experience after competing on the collegiate level. He got that when USA Triathlon contacted him and offered him the opportunity after college to race against European pros and earn his elite card. "That's when I learned what it would take to become a professional," he explains. "It raised the bar for me. I was probably one of the better guys on the U.S. circuit but racing in Europe showed me that I still had a lot of work to do."

His mother, Eileen, soon pitched in to keep track of the complicated points ranking system that allowed Ben to get in position to qualify for the Olympics, where he finished 29th overall in the 2016 Summer Games with a time of 1:48:59. There were many more highlights along the way, but one of the biggest was winning his fourth straight Escape Alcatraz on the race's 40th anniversary last August – with dad Mike in the same race for the first time.

"Ben did jump off the boat a couple of minutes before I did, because the pros go first, but we really did toe the start line together," Mike recollects. "That was really cool for me because the tables were turned. I was like the starry-eyed kid hanging around the pros and listening to them talk. And everyone wanted to shake Ben's hand and take selfies with him."

Now, the family affair shifts to St. Anthony's – including Eileen Kanute, who'll cheer on her husband and son; Ben's wife of two years, Courtney, a former TV reporter in Phoenix (the couple met when she did a story on him and he credits their marriage with giving his racing life much-needed balance); and of course, Briella, currently squirming and cooing on the Zoom screen.

For Mike, it will be extra meaningful. He'll be riding the same bike that Ben used in his first St. Anthony's race in 2013 – rekindling long-ago memories of all their father-son triathlons in Chicago. "To be part of the race with Ben as defending champion is incredible," he says. "That's as special as it gets."

The St. Anthony's Triathlon weekend will feature a Meek & Mighty Triathlon on Saturday April 30, and Olympic- and Sprint-distance races on Sunday, May 1. Registration is still available at SATriathlon.com.