St. Joseph's Hospital Named One of Nation's 50 Top Cardiovascular Hospitals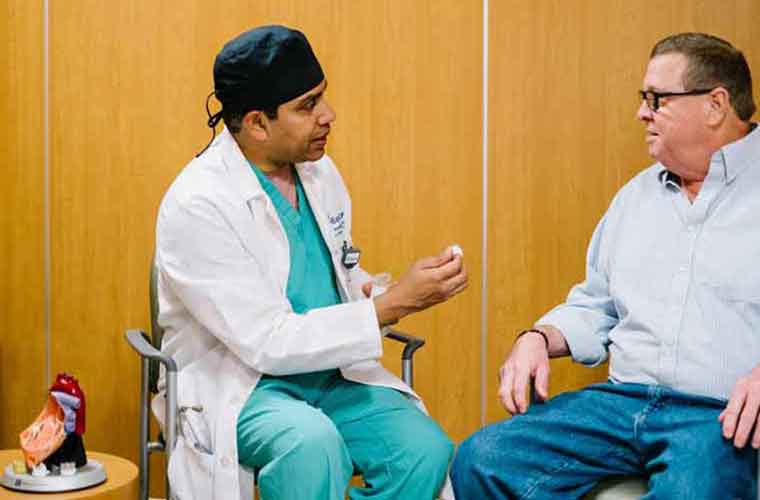 Alok Singh, M.D., (left) is Chief of St. Joseph's Hospital's Cardiology Department.
Excellence of top cardiovascular hospitals points toward opportunities to potentially save thousands of additional lives and billions of dollars in costs.

Tampa, Fla. Nov. 16, 2021 – Today, St. Joseph's Hospital was named one of the nation's top performing hospitals by Fortune and IBM® Watson Health®. The annual Fortune/IBM 50 Top Cardiovascular Hospitals study spotlights leading short-term, acute care, non-federal United States hospitals that treat a broad spectrum of cardiology patients. The study is designed to identify impartial, actionable, and attainable benchmarks for hospital and clinical leaders as they work to raise their own organizations' standards of performance in cardiac care.

"We're incredibly proud of the care our Heart and Vascular Institute provides," said St. Joseph's Hospital's President Kimberly Guy. "From the moment patients walk through our doors, we offer wraparound care and services to treat all aspects of cardiovascular disease—from diagnosis to treatment to recovery. The fact that we are the only hospital in Tampa Bay to earn this award, underscores our efforts to provide extraordinary and compassionate care for our community."

This year's study included 951 U.S. hospitals with cardiovascular service lines. Compared to similar cardiovascular hospitals, this year's winning hospitals had better results on indicators intended to measure clinical outcomes, operational efficiency, financial performance and patient experience.

Based on the methodology used by Watson Health, the study concludes that if all U.S. hospitals' cardiovascular service lines performed at the level of these study winners, some 6,400 additional lives and roughly $1.4 billion could be saved, and 5,000 additional bypass and angioplasty patients could be complication-free.

"Despite the challenges of COVID-19, the hospitals recognized on the Fortune/IBM Watson Health 50 Top Cardiovascular Hospitals list are providing quality care in one of the most critical areas," said Ekta Punwani, 100 Top Hospitals Program Leader, IBM Watson Health. "Hospitals are constantly working to improve clinical and operational performance, and the exceptional organizations on this list demonstrate the standard for top performing cardiac care. Their benchmarks serve as a real-world checkpoint for cardiovascular care across the U.S."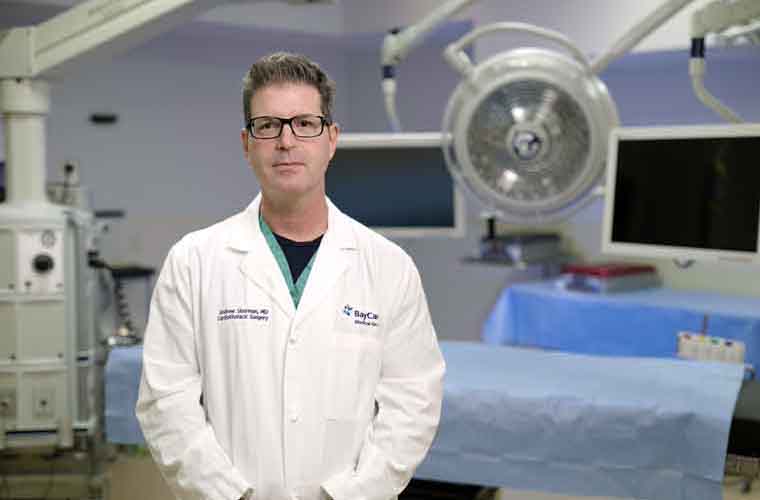 Andrew Sherman, M.D, is Chief of St. Joseph's Hospital's Cardiac, Vascular, Thoracic Surgery Department.
Each year, St. Joseph's Hospital performs over 500 open-heart surgeries, 600 interventional procedures, 900 diagnostic services and 11,500 diagnostic tests. Our nationally renowned Heart and Vascular Institute continues to grow in size and reputation, while providing exceptional patient experiences.

St. Joseph's Hospital has received the highest rating from the Society of Thoracic Surgeons for five consecutive years and last year received the Mission: Lifeline® STEMI Receiving Center – Gold Plus Award from the American Heart Association. This is the fourth year that St. Joseph's Hospital has been recognized as a Top 50 Cardiovascular Hospital by Fortune/IBM Watson. These combined honors put St. Joseph's Hospital among the elite institutions for treating cardiovascular disease.

"When heart patients arrive at St. Joseph's Hospital, we are committed to providing high-quality care that's focused on the best clinical outcomes," said Director of Cardiovascular Services Nanette Wilcox. "We make sure heart attack patients get immediate treatment by bypassing the emergency room. Our top-ranked open-heart surgery program is supported by world-class physicians and surgical teams. And our standardized approach to treating heart failure helps keep patients in their homes rather than in the hospital.

"We walk with patients through their journey, every step of the way," she added. "Our goal is that every heart patient in our community receives the highest quality of care and support from our skilled multidisciplinary team."

Earlier this year, St. Joseph's Hospital was named among the nation's 100 Top Hospitals by IBM Watson Health® for the fourth time. In addition, BayCare Health System, which includes St. Joseph's Hospital as one of its 15 hospitals, was recognized by IBM Watson Health as one of the top 20 percent large health systems in the country. This is the third year in a row that BayCare has been recognized with this honor.

The annual report highlights the top-performing cardiovascular hospitals in the U.S. based on a balanced scorecard of publicly available clinical, operational, and patient satisfaction metrics and data.

The winning hospitals were announced in Fortune. For more information, click here.

About St. Joseph's Hospital
St. Joseph's Hospital, part of the BayCare Health System, is known for advanced medical technology and compassionate care. Its Centers of Excellence include the Heart Institute, Cancer Institute, Stroke and Neuroscience Program, Robotic Surgery Program and Emergency/Trauma Departments, which treats more patients than any other hospital in the Tampa Bay region. More than 70 specialties are represented among the medical staff, from internal medicine to cardiology, neurology to surgery. The hospital was founded in 1934 by the Franciscan Sisters of Allegany.

About BayCare Health System
BayCare is a leading not-for-profit health care system that connects individuals and families to a wide range of services at 15 hospitals and hundreds of other convenient locations throughout the Tampa Bay and west central Florida regions. Inpatient and outpatient services include acute care, primary care, imaging, laboratory, behavioral health, home care, and wellness. Our mission is to improve the health of all we serve through community-owned health care services that set the standard for high-quality, compassionate care. For more information, visit www.BayCare.org