Program Helps Parkinson's Patients Move Big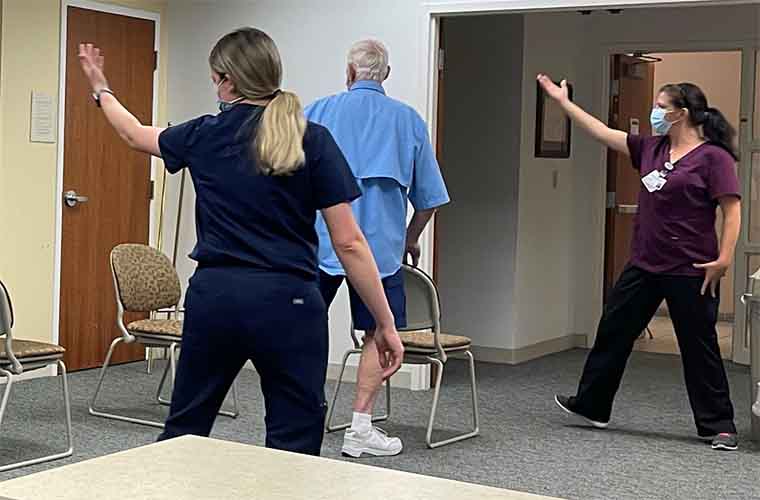 "Start Big and Reach Big" Occupational Therapist Rachel Williams loudly instructs. The class counts one, two, three, four, five, six, seven, eight, nine, ten. Then, Williams announces, "end big." The sequence repeats several times. To the casual listener, this sounds like any traditional exercise class, but to the participants and those accompanying them, this is much more.

The participants are Parkinson's patients, and they recognize this hard work can help to keep them moving. The weekly class is part of the LSVT BIG program offered by Morton Plant Hospital's Outpatient Rehabilitation. LSVT BIG is a research-based exercise approach, developed from principles of the Parkinson's-specific speech treatment, LSVT LOUD.

LSVT stands for Lee Silverman Voice Treatment. Lee Silverman developed the program in 1987 to improve vocal loudness, intonation and voice quality for individuals with Parkinson's disease. LSVT BIG evolved from LSVT LOUD and teaches participants how to avoid inactivity and keep moving during everyday activities with the goal of improving their quality of life while they live with this disease.

Morton Plant Hospital offers this weekly group meeting to anyone diagnosed with Parkinson's disease as well as a much more intense four-week program, which requires a physician referral. Often, individuals come to the weekly group after their four-weeks end.

The four-week program consists of 16 sessions on four consecutive days each week. The appointments are hour-long, one-on-one sessions with an LSVT BIG certified occupational or physical therapist. Patients have daily homework and daily carryover exercises.

According to Josee Scully, one of the LSVT BIG certified occupational therapists at Morton Plant Hospital, the world of an individual with Parkinson's disease becomes small. They shuffle their feet. They become stiff/rigid. They don't swing their arms when walking, and their voice becomes weak.

LSVT BIG helps retrain the brain to think big and use big movements. Participants work on faster walking and bigger steps, improved balance and increased body rotation.
Scully and Williams became certified to help patients about five years ago at the request of neurologists who felt this program could benefit their patients.

"This is a big commitment for the patient and the care giver, as most patients must have someone bring them to the appointments," said Scully. "However, once they notice the positive changes, they are motivated to continue coming and keep working."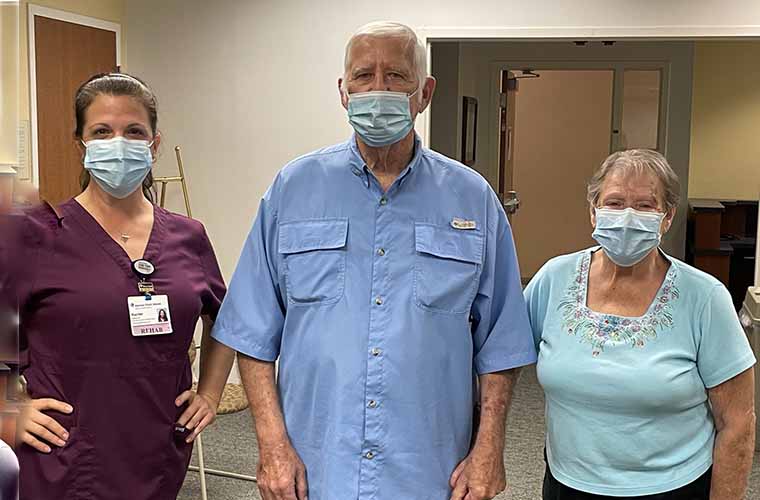 Eighty-two-year-old Eleanor Swale was referred to the program by her neurologist Michael Andriola, MD. "I was diagnosed with Parkinson's Disease in 2013 while I was living in Des Moines. When I moved here in 2019 and began seeing Dr. Andriola, he referred me to the program," Swale said. "It helped my balance and mobility. I also worked on my writing and learned to think big when I write."

Swale said others noticed the difference, and she hopes to be able to do another four-week session in a few months. Swale hasn't been to the weekly group meeting, but for many it is their way to continue improving.

At the insistence of his wife, Joe Pepin attends the group session each week. Constance Pepin, an amputee learned about the LSVT BIG Group when her physical therapist suggested it might help her husband, who was diagnosed with Parkinson's Disease three years ago. Joe Pepin attended the four-week intensive session, and Constance raves about the program.

"The group keeps him moving. It keeps his brain going," Constance Pepin said. "He sees people who have the same diagnosis but are in different stages of the disease. That helps motivate him to work hard."

"This program is an awesome program. I wish more people would come to it." she added.

Morton Plant Hospital also has three physical therapists who are LSVT BIG certified, Archana Arora, Austin Calantoni and Jennifer Ham, and two physical therapy assistants Joseph Flahtery and Martin Hatch who work with LSVT BIG patients.

To Arora, the greatest benefit of LSVT BIG is that it slows progression of neurological problems. "I believe it helps patients with all types of movement disorders, not just Parkinson's," said Archano. "The key is to start the program as early as possible in the disease stage. That's when it is most effective."

In addition to the Ptak Pavilion at Morton Plant Hospital, BayCare offers LSVT through St. Anthony's Hospital at the Carillon Center, the outpatient centers of South Florida Baptist Hospital, the Morton Plant Hospital outpatient center in Palm Harbor, the St. Joseph's Hospital outpatient site in the Medical Arts Building and the outpatient center at Bartow Regional Medical Center.
For more information, click here.