BayCare Medical Group Launches Limited Vaccination Service for existing 65+ Patients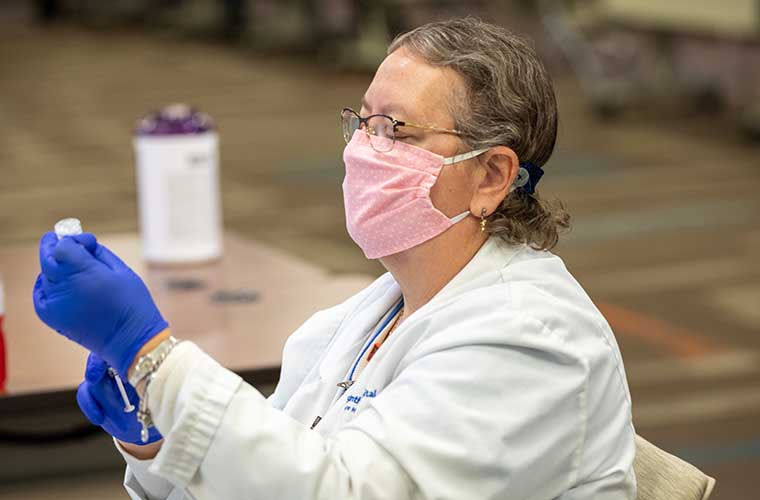 NOTE: As of May 1, 2021, BayCare has paused all vaccine scheduling due to significant vaccine availability from public and private providers across West Central Florida. BayCare encourages those still seeking a vaccine to visit BayCare.org/coronavirus/vaccines to find a list of providers in the region.

Two weeks after receiving COVID-19 vaccines and inoculating thousands of frontline health care workers across West Central Florida, BayCare Health System has launched a process in support of Florida's guidelines that prioritize vaccines for those 65 years of age and older.
The primary care practices of BayCare Medical Group (BMG) have begun inviting a limited number of existing patients who are 65 or older to make an appointment to receive the initial of two doses of a COVID-19 vaccine. The vaccinations will be scheduled at a handful of sites across the region.
Due to the limited supply of vaccines and the additional resources required to administer the vaccines, invitations to schedule vaccine appointments are being issued on a randomized basis to BMG patients 65 and older on a rolling basis.
There is no need for existing BMG patients 65 and older to call their doctor. As capacity is available, BMG will notify patients who meet criteria on a randomized basis via email or text message. Recipients of the invitations will need to schedule an appointment to be seen at a designated location. Vaccines will not be distributed on-demand but only through this invitation process.
BayCare appreciates the community's high level of interest in the COVID-19 vaccine, which represents a valuable tool in helping West Central Florida move beyond the pandemic. In the past two weeks, BayCare has moved from offering the COVID-19 vaccination to its healthcare workers most at risk of exposure to all patient-facing team members and to other healthcare workers in the community.

BayCare will continue to work with government and health care partners to support access to the vaccine in addition to its primary role of providing medical services at its 15 hospitals and hundreds of other locations throughout the region.

For more information about BayCare services and resources related to COVID-19, visit the Coronavirus Resource Center at BayCare.org/Coronavirus.