A Recovered COVID Patient Thanks South Florida Baptist Hospital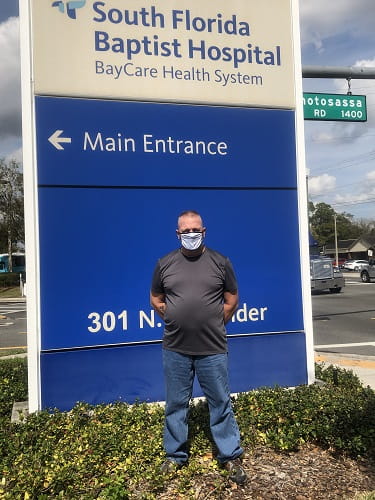 Wayne Goff recently outside of South Florida Baptist Hospital
The email came to South Florida Baptist Hospital ICU nurse manager Alicia Campbell shortly before Christmas 2020. The simple and unassuming message in the subject line: "COVID-19 patient."

What followed is a beautiful message from COVID patient Wayne Goff that tugs heartstrings and emotions:

"Alicia, on behalf of the Goff family and many others – I want to thank your ICU unit, which I was admitted on 06-23-20. They saved my life. I will be ever grateful the rest of my life. Your team are true Rockstars, they treated me so good. Once I woke up and could start understanding what was going on with me, and I saw how hard they were working to save other lives, I was amazed. They were always smiling after long shifts or after not so good shifts when things were so demanding."

"I can't say enough about this group you have handling ICU COVID patients. I saw a safe workplace and how they all wore their PPE and performed tasks professionally. They made it possible for me to have my 56th birthday, Thanksgiving and go hunting with my sons and grandchildren. Also, not to mention, them keeping my wife updated daily at morning shift change, evening shift change and even facetiming my wife and two sons."

"I hope none of them go unrecognized. The whole group are my heroes. I wish you and your team the best. Keep doing the things they did for me and I'm sure there will be more rewards to come. I wish you and your group a Merry Christmas and Happy New Year. Please remember I think of them everyday. Thanks, Wayne Goff and family."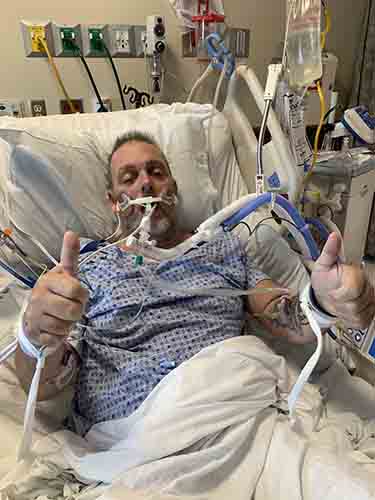 Wayne in the hospital battling COVID
Wayne, living in Dover and a lifelong Plant City-area resident, is a husband, father of two and grandfather of five. And a COVID survivor. He spent 14 days in South Florida Baptist Hospital's ICU and another five days in a progressive care unit before discharge.

"I never dreamed what this virus could do to you," Wayne recently said, reflecting back on what he went through. "I couldn't have asked for a better team. I truly believe that through the grace of God the team there saved my life."

"They treated me like a newborn, not a grown man. They were gentle. The long hours they were working, the double shifts, wearing the masks, the PPE, having to suit up, going in and out of rooms. It is a tough job."
Wayne still has residual health issues from COVID including fatigue. He is slowly building back his strength. He is a supervisor at TECO. He said TECO has been gracious by allowing him to work at his own pace and work at home if needed. After his return home from South Florida Baptist Hospital, he was greeted with a caravan of TECO trucks driving through his property showing their support. Some of the trucks displayed #GoffStrong signage, a hashtag that has rallied him.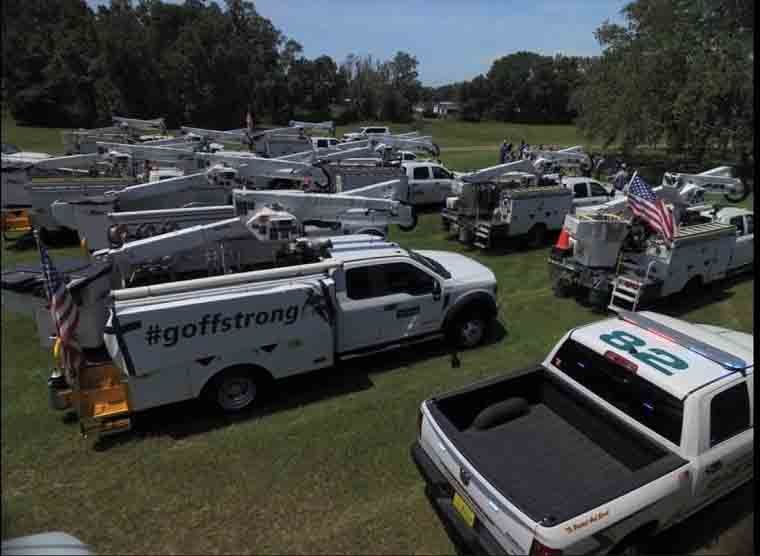 The caravan of TECO trucks that paraded on Wayne's property after he went home
He has built his stamina to the point where he can do a combination of walking, jogging and riding a bike for three to five miles. He said the best thing is enjoying hunting and fishing again with his family.

"I have so much appreciation (for South Florida Baptist Hospital)," Wayne said. "I will never be able to pay them back for what they did. I'm here. I owe them my life."

Alicia Campbell, the ICU nurse manager, said Wayne's email brings tears to her eyes every time she reads it. "It validates the hard work and dedication that my team has to improve the lives of our community," Alicia said.
She's also read it to her team several times over the past few months for encouragement. "I read it to them to help them realize they are doing good," Alicia said. "The message is inspiring and gives strength to keep doing our best for our patients."