BayCare Helps School Families with Food Pantries
Many families in the Tampa Bay area struggle to put food on the table. And the ongoing COVID-19 pandemic has only deepened food insecurity for many households.
That's why BayCare has partnered with Feeding Tampa Bay and public schools in Hillsborough, Pinellas, Pasco and Polk counties to expand the Feeding Minds program to provide food assistance for families in need.
"Food insecurity is a very prevalent issue across the four counties in which we serve," said Keri Eisenbeis, vice president of Government and Community Relations at BayCare. "We created the Feeding Minds program to help provide access to nutritious food and groceries for struggling families in our most vulnerable, lower-income communities."
Through the program, BayCare and Feeding Tampa Bay have installed food pantries inside 18 local elementary, middle and high schools. So far, the organizations have distributed more than 160,000 meals to local families.
"At least one in four children across the Tampa Bay area are food insecure," said Matt Spence, chief programs officer for Feeding Tampa Bay. "We're hoping these food pantries will help struggling parents secure meals for their children and help them thrive in school and in the future."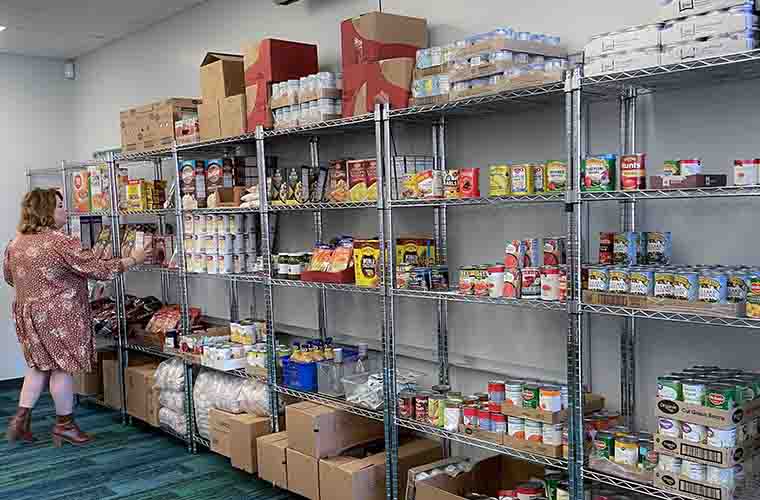 BayCare knows that food is essential to overall health and wellness and to students' long-term mental, physical and academic success. Through this program, BayCare and Feeding Tampa Bay strive to provide access to a variety of foods that are healthy and nutritious for the entire family. The pantries are stocked up with fresh produce, frozen meats, and a wide assortment of dry goods such as flower, rice, beans, pastas, whole grain breads and more.
"We're thankful to BayCare and Feeding Tampa Bay for bringing this program to Eisenhower Elementary School," said Jenifer Jernigan, secretary/bookkeeper at Eisenhower Elementary School, one of the 18 public schools with a Feeding Minds pantry. "We're not only feeding student's tummies, but we're also feeding their brains. Proper nutrition gives students the energy they need to focus and learn better in the classroom."
Through its partnership with Feeding Tampa Bay, BayCare has invested $450,000 toward Feeding Minds Program in hopes of identifying a dependable source for nutrition and provide the immediate need today and for the foreseeable future.
BayCare sharpened its Community Benefit focus on food insecurity in recent years after a 2019 Community Health Needs Assessment identified a great need. That need has only increased during the pandemic as Feeding Tampa Bay and other agencies reported significant spikes in families seeking food assistance.
Families at the following public schools have access to a Feeding Minds pantry. Contact the school office for more information on pantry hours:
Hillsborough County
Pinellas County
Pasco County
Polk County
For more information about BayCare's food insecurity initiatives, visit BayCare.org.