Recipe: Grilled Salmon With Mango Salsa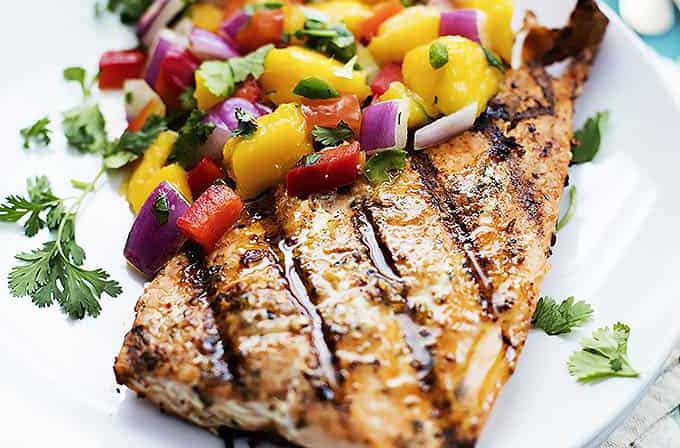 Ingredients
• 4 6 oz. salmon filets
• 1 tsp garlic powder
• 1 tsp chili powder
• Salt and pepper to taste
• Juice of 1 lime
Mango salsa
• 2 mangos, diced
• 1/2 red pepper, diced
• 1/2 red onion, diced
• 1/4 cup cilantro, chopped
Directions
• In a bowl, stir together mango, red pepper, onion and cilantro.
• In a separate bowl, stir together garlic powder, chili powder, salt and pepper. Use 1/2 teaspoon of seasoning per each piece of salmon. Rub seasoning on each side of salmon filets. Grill over medium heat for 4-5 minutes per side.
• Squeeze lime over each piece of salmon and top with mango salsa. May be served over jasmine rice.
Yield: 4 servings
Per serving
• Calories 250
• Fat 6 g
• Cholesterol 1 g
• Sodium 11 g
• Total carbohydrates 19 g
• Protein 6 g