St. Joseph's Hospital-North's Cristian Rivas Is BayCare's Inaugural Transporter of the Year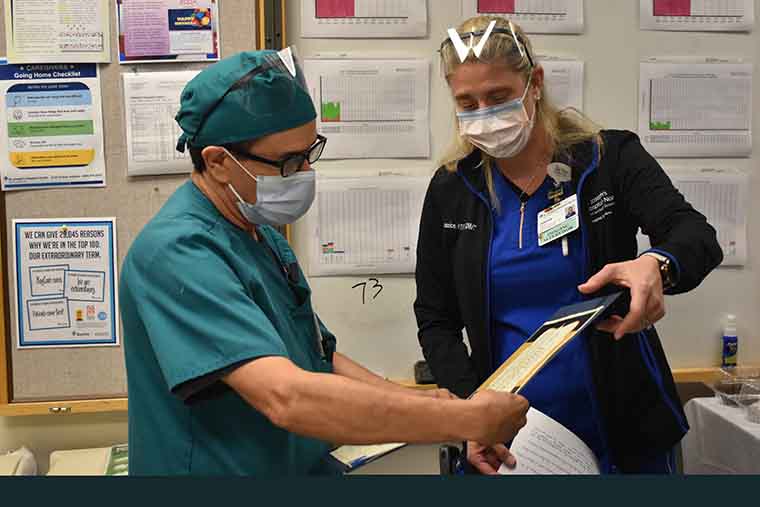 Cristian Rivas (left), receives his award from Jessica Reilly
Cristian Rivas has been with BayCare only three years. But he's made a huge impact in that short amount of time.
He's made such an impact that he was bestowed with BayCare's inaugural Transporter of the Year Award.
The new award, coordinated by BayCare system-wide leadership in Transport, will annually recognize a top performing transporter. Cristian, a transporter at St. Joseph's Hospital-North, is the recipient of the 2020 award. He was chosen from among nominees submitted to system transport leadership from each hospital. Leadership voted on the nominees. Imaging Services took the lead on the award since they do the bulk of the transporting.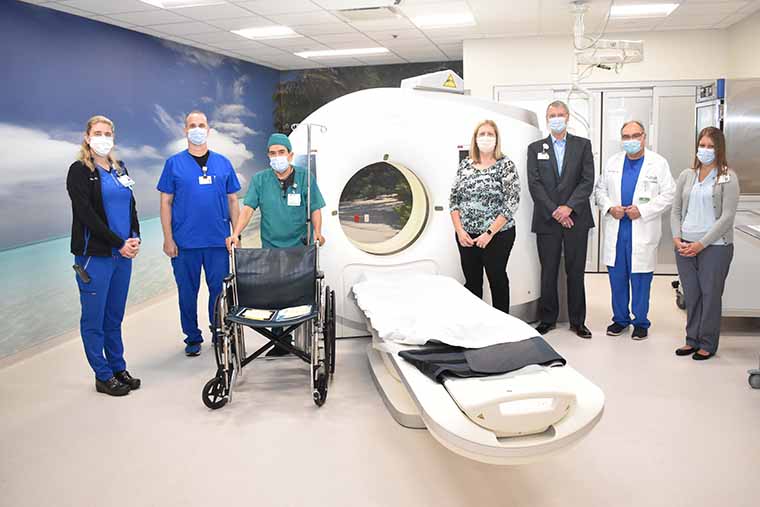 Cristian (third from left) with St. Joseph's Hospital-North and BayCare representatives in a St. Joseph's Hospital-North ER imaging room
For the neophytes among us, that begs the question: What is a transporter?
Transporters are the team members piling up the steps and miles and wearing out footwear by moving patients throughout the hospital. When you see a team member moving a patient with a wheelchair or stretcher, it's a good bet that the team member is a transporter. They also can help with transporting patients into the hospital and with discharges. There are approximately 300 transporters in BayCare's hospitals.
"Transporters take patients to and fro, from their room to radiology, sometimes to pre-op, sometimes the OR," said Jessica Reilly, St. Joseph's Hospital-North's imaging supervisor who nominated Cristian for the honor. "They will also sometimes transport (medical) items."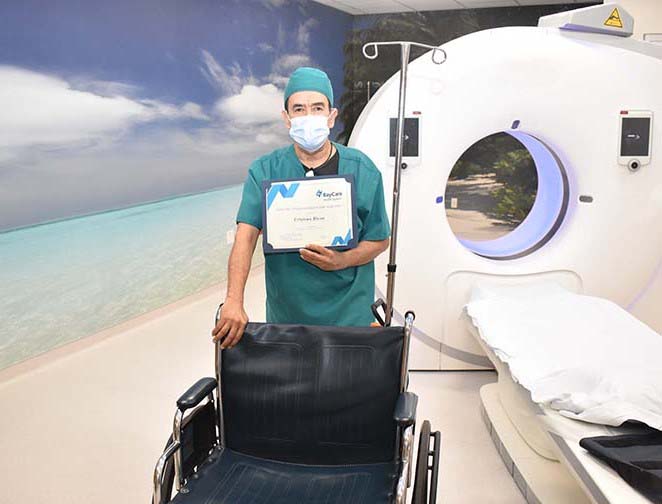 In an era dominated by statistics, analytics, metrics or whatever you'd like to call them, Cristian's numbers were impressive. He completed 7,922 transports in 2020 and averaged more than 4 transports an hour.

Chris Blanchard, St. Joseph's Hospital-North's imaging manager, points out that those numbers tell only the partial story about Cristian.

"He trains all our transporters too," Chris said. "He spends a lot of time with new transporters on their trips. He doesn't get credited for the trip on his record, it goes to the other transporter. He trains our transporters because he's the best."

His statistics and efficiency aside, it's the intangibles that make Cristian special. He's always smiling and communicates well with team members and patients. He puts patients at ease. He's usually the first person a patient sees to begin an imaging exam.

Cristian, a resident of the Carrollwood area, recently received the award in a surprise ceremony in St. Joseph's Hospital-North's imaging department before team members. He also received 200 points for use in BayCare's High Five store for winning the award.

"This is great, unbelievable," Cristian said. "I cannot express how much I love my job and doing it here (at St. Joseph's Hospital-North). There is love and compassion here. It is a friendly place."

He said the best part of the job is helping patients.

"Seeing the patients smile at me and seeing them get better is the reward," he said.

"Transporters have a relationship with patients," said Lorraine Sargent, BayCare's east region imaging director. "They have a tremendous amount of patient contact. Patients can be scared, they're being moved from their rooms, they might not know where they are going. The transporter is taking them to the unknown. The transporter explains where they are going in a way the patient understands. A transporter has to be very caring. Transporters don't get a lot of recognition for an important job. That's why we thought to start this award."

Lorraine said that starting this year, in addition to a Transporter of the Year Award, the system will honor a transporter each quarter.

They're off to a good start with Cristian Rivas being the first recipient.