New Primary Care Physician Joins BayCare Medical Group's Family Health Center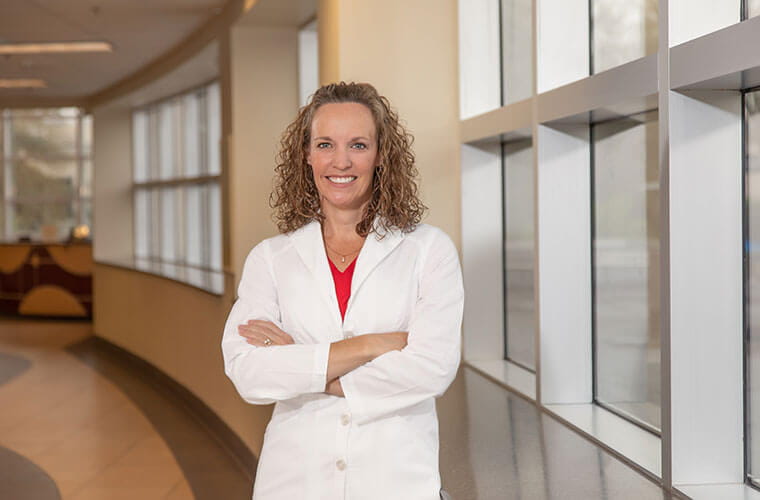 Dr. Ashley Falk will see patients in Winter Haven and teach new physicians in the residency program.
Winter Haven, Fla., (October 26, 2020)
– A new BayCare Medical Group physician, Ashley Falk, MD, is now seeing patients at one of the primary care clinics in Winter Haven.
She is joining the Family Health Center, located at 1201 First Street S., Suite 100A. Dr. Falk is board certified in family medicine and is passionate about improving primary care access to our communities.
Dr. Falk completed her undergraduate degree in biology at American University in Washington, D.C. She earned her Doctor of Medicine from the University of Minnesota Medical School in Minneapolis, Minnesota. Dr. Falk then completed a family medicine residency at Offutt Air Force Base/University of Nebraska Medical Center in Omaha, Nebraska.
As a child, Dr. Falk spent a lot of time with doctors as she coped with a childhood illness, and as a result, developed an interest in the field.
"I really appreciated the quality of care I received," she said.
In June, the Winter Haven Hospital/Florida State University College of Medicine Family Medical Residency at BayCare Health System welcomed its first residents. That means that Dr. Falk will join her husband, Dr. Nathan Falk and Dr. Ashley Wilk, in instructing the new residents.
"This is an exciting opportunity," Dr. Falk said. "I'm excited to work with these physicians and be a part of their growth."
Although Dr. Falk will be seeing patients of all ages, her specialties are women's health care – including prenatal care and obstetrics – and pediatrics.
She lives in Winter Haven with her husband and three children.
About BayCare Medical Group
BayCare Medical Group is Tampa Bay's leading multi-specialty group providing primary and specialty care throughout the Tampa Bay and west central Florida regions. As part of the BayCare Health System, these passionate and compassionate physicians extend the mission of BayCare to provide extraordinary care for every patient, every time, everywhere. For more information, visit
www.BayCareMedicalGroup.org
.
About BayCare Health System
BayCare is a leading not-for-profit health care system that connects individuals and families to a wide range of services at 15 hospitals and hundreds of other convenient locations throughout the Tampa Bay and west central Florida regions. Inpatient and outpatient services include acute care, primary care, imaging, laboratory, behavioral health, home care, and wellness. Our mission is to improve the health of all we serve through community-owned health care services that set the standard for high-quality, compassionate care. For more information, visit
www.BayCare.org