Congressman Charlie Crist Kicks Off Open Enrollment at St. Anthony's Hospital
November 01, 2019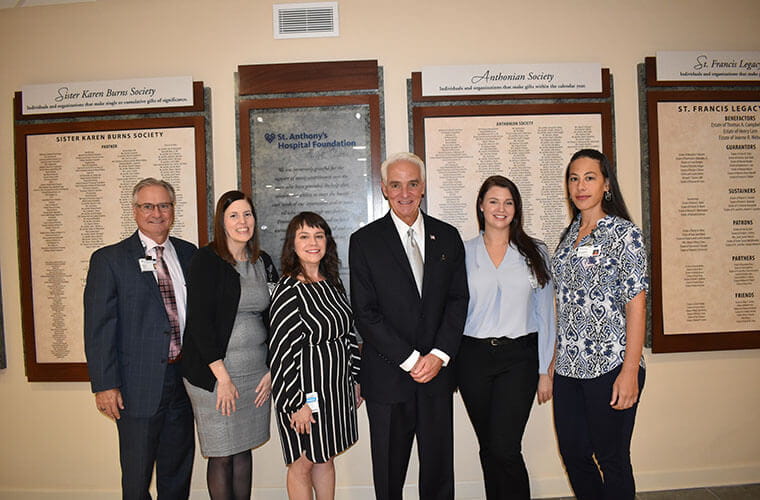 ST. PETERSBURG, Fla., (Nov. 1, 2019) — Open Enrollment, the time when individuals and families who purchase their own health insurance through the Health Insurance Marketplace can buy or change plans for 2020 coverage, begins today. Congressman Charlie Crist kicked off the six-week enrollment period with a news conference at St. Anthony's Hospital. He was joined by navigators who help those in the community understand the available options in the Marketplace.

"It's urgent we get the word out about enrollment information, options and assistance because unlike the previous years where we had enrollment periods that were three months, this year consumers will only have six weeks to make changes that work best for them and their families," Congressman Crist said. "Here in Pinellas, we are blessed to have over a dozen navigator locations where you stop by or make an appointment to have someone help you sign up."

The deadline to register is Dec. 15.

Jennifer Tayler, a health care navigator coordinator for BayCare Health System, meets one-on-one with individuals in need of health care coverage, helping them to evaluate options and connect to plans that best meet their needs. "The Marketplace is a great way for consumers who aren't offered coverage through an employer, Medicare or Medicaid to shop for affordable health coverage," Tayler said. "If you enroll in a plan by Dec. 15, you can have coverage beginning Jan. 1. Consumers may qualify for premiums as low as zero dollars depending on their income and household size."


The Family Healthcare Foundation is beginning its seventh Open Enrollment season as the lead Navigator Grantee for the Tampa Bay Region as part of the Covering Florida Consortium with the University of South Florida's Navigator Project. "We know that nationally, enrollment last year for the Health Insurance Marketplace was still incredibly high, despite the individual mandate being removed," said Katie Roders Turner, director of operations for the Foundation. "Here in Florida, the number of people enrolled even went up. Beyond the headlines, there is the basic desire of people who want access to quality and affordable health care coverage."

To meet with a BayCare navigator, call toll-free 1-855-404-3337. The Family Healthcare Foundation will be at the St. Petersburg Main Library for the next seven Saturdays providing free assistance to navigate the Marketplace. For more information, call (813) 995-1066.

"Thank you to all the navigators and folks on the ground for getting the word out about enrollment," Congressman Crist said. "This is who we are as a community – neighbors helping neighbors. The enrollment period ends Dec. 15 so the time to act is now. Get covered, Pinellas!"

About BayCare
BayCare is a leading not-for-profit health care system that connects individuals and families to a wide range of services at 15 hospitals and hundreds of other convenient locations throughout the Tampa Bay and west central Florida regions. Inpatient and outpatient services include acute care, primary care, imaging, laboratory, behavioral health, home care, and wellness. Our mission is to improve the health of all we serve through community-owned health care services that set the standard for high-quality, compassionate care.