St. Joseph's Children's Hospital First Hospital in Florida to Offer New Device to Repair Holes in the Heart
December 19, 2019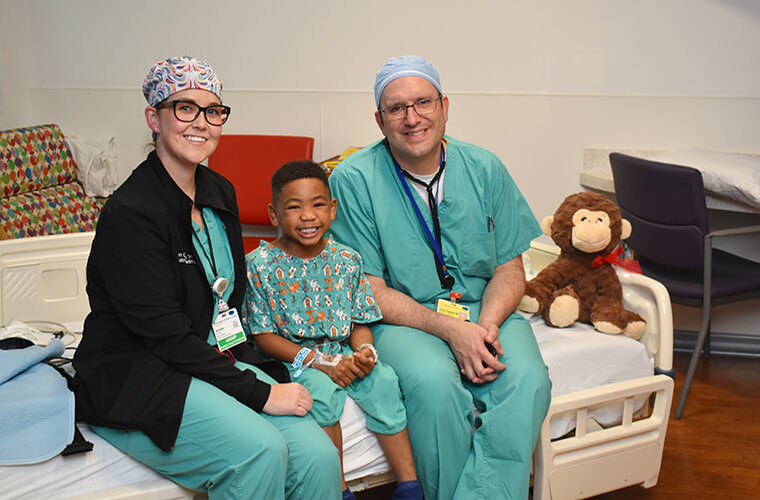 TAMPA, Fla. (Dec. 19, 2019) – Five-year-old Jaycob Jones was born with a hole in the wall between the two upper chambers of his heart, a condition known as an atrial septal defect (ASD). On Nov. 4, 2019, Jaycob was among the first patients in Florida to have his heart repaired using a next-generation medical device that offers a better option for closing ASDs.
St. Josephs' Children's Hospital is the first hospital in Florida to use the Gore Cardioform ASD Occluder, a permanently implanted device for the minimally invasive closure of ASDs, allowing patients to avoid open-heart surgery.
"This new device will increase our ability to close the largest ASDs – ASDs up to nearly 4 centimeters in diameter – using materials that are much softer and more flexible in comparison with the prior generation of devices," said Dr. Jeremy Ringewald, pediatric interventional cardiologist and the medical director of the Cardiac Catheterization Lab at St. Joseph's Children's Hospital.
Like other devices designed to treat ASDs, the Gore Cardioform ASD Occluder doesn't require open-heart surgery. After inserting a tiny catheter tube into a vein in Jaycob's groin, Dr. Ringewald guided the catheter into the heart and moved the device through the catheter to repair the hole. Since the procedure is far less invasive than open-heart surgery, most patients go home the following morning.
ASDs are among the most common congenital heart defect, causing an increase in blood flow in the right side of the heart from the left. If untreated, ASDs can cause problems in adulthood, including pulmonary hypertension, congestive heart failure, atrial arrhythmias and an increased risk of stroke.
"Larger ASDs have a great risk for complications and the ability to retrieve and reposition the Gore Cardioform ASD Occluder helps ensure proper positioning and a confident closure," adds Dr. Ringewald.
St. Joseph's Children's Hospital's pediatric heart physicians perform hundreds of cardiac procedures each year to treat congenital and acquired heart conditions in children of any age, including newborns. A partnership between St. Joseph's Children's Hospital and the Children's Hospital of Pittsburgh of UPMC provides families across Florida with unprecedented access to the highest level of pediatric heart care available. Together, they provide highly specialized cardiovascular care for patients ranging from babies in the womb to adults with congenital heart disease.