St. Joseph's Hospital/South Florida Baptist Hospital Faith Community Nursing Program Presents 'Holding On, Letting Go'
December 17, 2019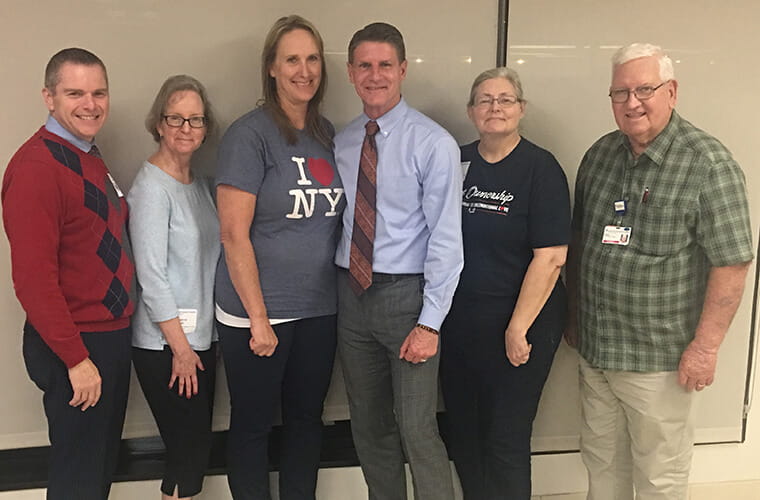 The "Holding On, Letting Go" cast includes: Coy Permenter, Patti Millin, Alesia Bischoff, Jimmy Baumgartner, Debbie Scourtes and Gary Shepherd.
Performances will spotlight end-of-life issues and the role of hospice care.
PLANT CITY, Fla., Dec. 17, 2019 – St. Joseph's Hospital/South Florida Baptist Hospital Faith Community Nursing program will present "Holding On, Letting Go" Jan. 10, 2020, at 6:30 p.m. and Jan. 11, 2020, at 3 p.m. at Plant City Entertainment, 101 N. Thomas St., Plant City. "Holding On, Letting Go" is a play that explores with keen human insight the complicated family dynamics surrounding a man's struggle to live fully while preparing to die.
The play features Jimmy Baumgartner, director of Operations for St. Joseph's Children's Hospital/St. Joseph's Women's Hospital, in the role of Bobby Alexander. The story focuses on how 51-year-old Bobby and his family navigate through his last days at home under hospice care. Following the play, the audience will have the opportunity to participate in a facilitated panel discussion.
"Part of our mission is to explore the myriad issues surrounding death and dying," said Linda Wilkerson, manager of Faith Community Nursing for St. Joseph's Hospital and South Florida Baptist Hospital. "Producing this play is a great way to start a conversation focusing on the tension between 'holding on' and 'letting go' faced by both the person who is dying and those loved ones who must share the experience."
Because the dramatic theatrical presentation stimulates conversations on end-of-life issues, Wilkerson encourages people to attend with a significant other. "'Holding On, Letting Go' is an intimate, compelling production about Bobby Alexander's final days, yet it is thoroughly entertaining and laced with humor that allows us all to comfortably explore on a very personal level the issues surrounding end-of-life," Wilkerson said.
Cast members include Alesia Bischoff as Bobby's wife, Lee; Debbie Scourtes as Bobby's mother, May; Coy Permenter as social worker Gabe; Gary Shepherd as Chaplain Roger; and Patti Millin as Virginia, the nurse. Directing the play is Lois Dunson, a nurse with St. Joseph's Hospital-South Emergency Services. Dunson is a frequent performer with Plant City Entertainment.
"Holding On, Letting Go" is the last in the trilogy of end-of-life plays by playwright Bryan Harnetiaux of Spokane, WA, and focuses on the role of hospice care in helping the dying patients and families navigate through the complex medical, legal and profoundly personal issues that attend end-of-life. This production of "Holding On, Letting Go" is presented through an agreement with Hospice Foundation of America, a nonprofit, charitable organization providing leadership in the development and application of hospice and its philosophy of care.
Registration for this free event is required due to limited seating. For more information and to register, visit BayCare.org/play or call (813) 356-7311.

About South Florida Baptist Hospital
Since 1953, South Florida Baptist Hospital has served Plant City and surrounding areas as a not-for-profit community hospital. The progressive, 147-bed acute care facility offers a full range of diagnostic, rehabilitative, surgical, therapeutic and women's services, including obstetrics. South Florida Baptist Hospital is part of the BayCare Health System, a family of health care providers consisting of the 15 leading not-for-profit hospitals in the Tampa Bay region.

About St. Joseph's Hospital
St. Joseph's Hospital, part of the BayCare Health System, is known for advanced medical technology and compassionate care. Its Centers of Excellence include the Heart Institute, Cancer Institute, Stroke and Neuroscience Program, Robotic Surgery Program and Emergency/Trauma Departments, which treats more patients than any other hospital in the Tampa Bay region. More than 70 specialties are represented among the medical staff, from internal medicine to cardiology, neurology to surgery. The hospital was founded in 1934 by the Franciscan Sisters of Allegany.

About BayCare Health System
BayCare is a leading not-for-profit health care system that connects individuals and families to a wide range of services at 15 hospitals and hundreds of other convenient locations throughout the Tampa Bay and central Florida regions. Inpatient and outpatient services include acute care, primary care, imaging, laboratory, behavioral health, home care, and wellness. Our mission is to improve the health of all we serve through community-owned, health care services that set the standard for high-quality, compassionate care.