St. Joseph's Women's Hospital Begins $9.4 Million NICU Expansion and OB Renovation
4/18/2019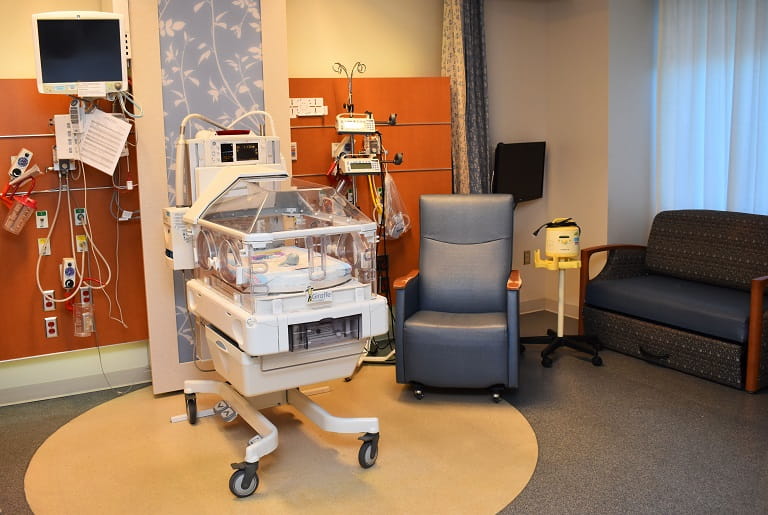 TAMPA, Fla., (April 18, 2019) — St. Joseph's Women's Hospital has started construction on a $9.4 million project that includes an expansion of its Level IV Neonatal Intensive Care Unit (NICU) and renovation of the Obstetrics Unit. The 16,500-square-foot project is expected to be complete in February 2020.
As designated by the American Academy of Pediatrics, a Level IV NICU provides the highest level of care, including surgical repair of congenital or acquired conditions and immediate on-site access to pediatric medical and surgical subspecialists and pediatric anesthesiologists. More than 1,200 newborns each year are admitted to the NICU at St. Joseph's Women's Hospital, staying anywhere from several days to five months, depending on their medical condition.
The NICU expansion includes:
12 new, private patient suites, bringing the total NICU bed count to 76

Family centered design with a full bathroom and sleeping nook for overnight guests in each suite
Ample space to accommodate the latest high-tech and life-sustaining equipment



Addition of a transition nursery with six patient beds for infants in need of additional monitoring after birth

Dedicated to newborns requiring 6 to 8 hours of intermediate care
Will allow more babies to stay with their families instead of being admitted to the NICU
Complements the spectrum of care for the more than 7,000 babies born each year at St. Joseph's Women's Hospital
"This expansion is in direct response to the needs of our community," said Janessa Canals-Alonso, director of patient care services for the NICU. "We are proud to provide the most complex level of neonatal care to the most critical babies, regardless of where they are delivered."
Other construction includes:
Renovation of 15 patient rooms in the Obstetrics Unit to provide the comforts of home to new mothers and their babies in a tastefully appointed suite
A pedestrian bridge connecting to St. Joseph's Women's Hospital as part of the $126 million construction project at St. Joseph's Hospital

Will allow quick transportation for women and babies in need of surgery and procedures at St. Joseph's Hospital and St. Joseph's Children's Hospital while providing the public with a safe route to cross Martin Luther King Jr. Blvd.
About St. Joseph's Women's Hospital
St. Joseph's Women's Hospital, part of the BayCare Health System, offers complete obstetrical, perinatal, surgical, gynecological and oncological services. Only St. Joseph's Women's Hospital offers the Shimberg Breast Center, where women can receive the most advanced testing and treatment available. Due to its comfortable Labor and Delivery suites, extensive childbirth programs, Level IV Neonatal Intensive Care Unit and Maternal/Fetal program, St. Joseph's Women's Hospital is widely regarded as the place in Tampa to have a baby and delivers more babies than any other facility in the Tampa Bay region.

About BayCare Health System
BayCare is a leading not-for-profit health care system that connects individuals and families to a wide range of services at 15 hospitals and hundreds of other convenient locations throughout the Tampa Bay and central Florida regions. Inpatient and outpatient services include acute care, primary care, imaging, laboratory, behavioral health, home care, and wellness. Our mission is to improve the health of all we serve through community-owned, health care services that set the standard for high-quality, compassionate care. For more information, visit BayCare on the Web at www.BayCare.org.
###