Support Services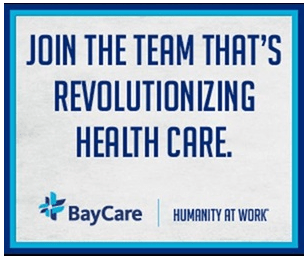 Every role within our organization plays an important part in providing an excellent patient experience even if you are not providing direct patient care.
Looking to start your healthcare career? BayCare offers many entry level opportunities.
Food and Nutrition Services
BayCare's hospitals in the Tampa Bay area provide food and nutrition services for our patients. Nutrition services include medical nutrition assessments, gastrointestinal consultations and the development, implementation and review of nutrition care and therapy plans. Dietitians have experience with nutritional needs for patients with chronic disease. Nutrition methods can also include feeding tubes and feeding using a needle or catheter inserted into a patient's vein. Nutrition also involves swallowing evaluations and treatment and use of imaging techniques to evaluate the gastrointestinal tract.
Career paths in BayCare Food and Nutrition Services: Registered Dietitian, Cook, Food Services Rep, Hospitality Associate
Environmental Services
BayCare's Environmental and Linen techs support our patients in each of our hospitals by keeping patient rooms sanitary and neat, providing a wonderful patient experience during their stay.
"Our team does more than just create a clean facility, they deliver extraordinary results in customer experience," said Dan Bennett, SJH manager of environmental services. "They are courteous, approachable and always willing to provide assistance … the little things that make a big difference to our patients, visitors and staff."
Career paths in BayCare Environmental Services: Environmental Tech, Linen Tech
Patient Registration and Patient Access and Patient Billing
BayCare Patient Registration and Patient Access roles are performed in central offices and on site with patients. Team members in the areas have strong attention to detail, customer focus, excellent communication skills and are goal-oriented.
Career paths in Patient Registration, Billing and Coding: Registrar, Patient Access Rep, Patient Financial Rep
Other support opportunities at BayCare
Pastoral Care and Faith Community Nursing
Chaplains serve in many hospital settings, and some are assigned to rehabilitation units. They act as spiritual counselors to help patients, families, and the health care staff members. Because rehabilitation focuses on the whole person — physical, emotional, social, and spiritual, the chaplain often plays a special part in helping a person with a disability cope and recover. When a hospital or rehabilitation center does not employ a chaplain, the patient's own clergy or spiritual advisor often performs these functions.
BayCare's Faith Community Nursing (FCN) programs date back to 1991. As part of its mission, BayCare is dedicated to assisting faith communities in developing health ministries that promote wellness and whole person health by addressing emotional, physical, and spiritual needs. Over 300 faith community nurses are currently affiliated with BayCare's FCN programs in more than 8 counties in and around the Tampa Bay area. BayCare's team of coordinators at 4 flagship locations, offer training, mentoring, materials, supplies, CEU events, and liability coverage, all FREE for the nurses. Also a free service, coordinators serve as consultants to the faith communities to help identify their own volunteer nurses for orientation and facilitate mutual goals and plans for development.
Career Paths with BayCare Pastoral Care and Faith Community Nursing: Chaplain, Board Certified Chaplain, Faith Community Nurse, Faith Community Nurse Coordinator
Safety and Security
Safety and Security of our facilities, patients and staff is vitally important in today's volatile world. Security officers perform general safety and security duties to ensure team member, patient and visitor safety. Class "D" security officer license application is required.
Career paths in Safety and Security: Security Officer, Security Coordinator
Facilities
Our dedicated team of Facilities Technicians are responsible for the maintenance, operation, and repair of buildings, equipment and systems throughout the assigned facilities to create a safe environment for our patients, customers, and team members.
Career paths in Facilities: Plumber, Electrician, Carpenter, Maintenance Dispatchers
Social Services and Case Management
Case Management and Social Services works to implement a care plan and set goals. Case management evaluates the patient's physical, mental, and environmental conditions to ensure that the patient's safety and welfare needs are being met. The case manager works closely with the patient, family, physician, therapists and service providers to coordinate and assist in utilizing community resources. Case management also coordinates discharge planning for continued care in a facility, transfer to another location or for the return home.
Career paths in Social Services and Case Management: Hospital Care Coordinator, Social Services Specialist, Social Services Coordinator, Care Partner, RN Case Manager
HIM Coding
BayCare HIM Coding is performed in Clearwater with remote (work from home) capabilities. An added benefit in Coding is the great emphasis on continuous training which allows for team members to experience career growth and move up the career ladder.
Career paths in Him Coding: Medical Records Coder, Specialty Coder, HIM Tech