Rheumatology Services in Tampa Bay
Rheumatology involves the treatment of arthritis and other musculoskeletal disorders affecting the joints, muscles and soft tissues of the body, as well as autoimmune disorders. BayCare Medical Group has a network of experienced rheumatologists located in the Tampa Bay area that can treat rheumatic disease by reducing pain and maximizing mobility.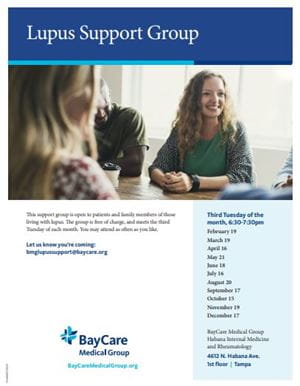 Some of the most common symptoms of rheumatic disease may include joint stiffness, joint swelling, rheumatoid nodules, fatigue, joint pain and numbness or tingling in the extremities. If you are chronically experiencing any of these issues, talk to your doctor about your symptoms.
Types of rheumatic diseases that the rheumatologists at BayCare Medical Group treat include:
Ankylosing spondylitis
Fibromyalgia
Gout
Lupus
Lyme disease
Osteoarthritis
Osteoporosis
Paget's disease
Psoriatic arthritis
Reactive arthritis
Rheumatoid arthritis
Scleroderma
Sjogren's syndrome
Tendonitis/Bursitis
Vasculitis
Management of rheumatoid arthritis, ankylosing spondylitis and other autoimmune conditions can take a variety of forms. From physical therapy, occupational therapy and drug therapy to infusion therapy and pain relief injections, the BayCare Medical Group specialists offer it all in a caring, compassionate environment.
For more information or a physician referral, call (844) 818-2351.