Tommy Inzina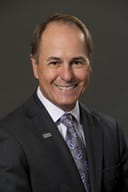 Tommy Inzina is the President and Chief Executive Officer of BayCare, a leading, not-for-profit health care system that connects individuals and families to a wide range of services at 15 hospitals and hundreds of other convenient locations throughout the Tampa Bay and central Florida regions. With revenues of about $4.2 billion and more than 28,000 employees, BayCare is one of the largest, private companies in west central Florida. BayCare's inpatient and outpatient services include acute care, primary care, imaging, laboratory, behavioral health, home care and wellness.
Inzina became CEO on May 1, 2016. He was BayCare's first Chief Financial Officer when it was formed in 1997, and has also served in Chief Administrator Officer and Chief Operating Officer roles in his 23-year career with the system. As one of BayCare's top leaders, Inzina has played a key role in the organization's continued growth.
While Inzina was BayCare's CFO and CAO in 2011, the health system was one of the few in the country that received an upgraded credit rating, reflecting the organization's strong, consistent financial planning. As CFO, Inzina led the consolidation of BayCare's finance, billing, supply chain, materials management and risk management departments. Inzina also led the creation of a centralized billing office and distribution center, creating significant savings and efficiencies for the entire organization.
Inzina has broad experience in health care finance and operations, including mergers and acquisitions. Before joining BayCare, he specialized in health care auditing and consulting for Ernst & Young, a top global accounting firm. After 10 years with Ernst & Young, Inzina joined St. Joseph's-St. Anthony's Health System, which is now part of BayCare.
Inzina also serves in leadership roles for industry and community organizations, such as The Tampa Bay Partnership, The Florida Hospital Association, The Heart Ball Cabinet for The American Heart Association, and The American Cancer Society's CEOs Against Cancer.
Inzina graduated from Auburn University with a Bachelor of Science in Accounting and earned his Master of Business Administration from the University of Tampa. He is a Certified Public Accountant and a Fellow of the Healthcare Financial Management Association.