Janice Polo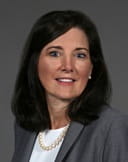 Janice Polo is Executive Vice President and Chief Financial Officer for BayCare Health System, a leading not-for-profit health care system that connects individuals and families to a wide range of services at 15 hospitals and hundreds of other convenient locations throughout the Tampa Bay and central Florida regions. BayCare's inpatient and outpatient services include acute care, primary care, imaging, laboratory, behavioral health, home care, fitness and urgent care centers.
Two years after receiving a bachelor's degree in accounting from the University of South Florida in 1986, Polo was hired by St. Joseph's Hospital, which later became part of the BayCare system, and spent more than a decade there in various finance positions.
In 1999, Polo was named Director of Finance for the BayCare system, with the primary responsibility to establish and oversee a new Shared Service Center for accounting, financial reporting, capital asset management, accounts payable and payroll. The center centralized financial functions as BayCare added hospitals and other facilities, and it created new operational efficiencies.
In 2010, Polo was promoted to Vice President of Finance. In that role, Polo led a finance management team and directed more than $1 billion in bond offerings. She also streamlined the audit process and led the system's transition from traditional annual budgeting to quarterly rolling forecasts.
On March 1, 2017, Polo became interim CFO upon the departure of the former CFO. In June 2017, she was named Executive Vice President and CFO. In that role, she is responsible for Finance, Treasury, Revenue Cycle, Managed Care and Risk Management.
She is a Certified Public Accountant and a member of the Healthcare Financial Management Association, the Florida Institute of Certified Public Accountants and the American Institute of Certified Public Accountants.