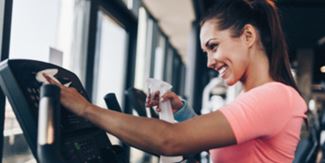 Our top priority remains the health and wellness of our members and our community. To help prevent the spread of COVID-19, we have put proper plans and safety procedures in place to protect you during your workouts.
We've enhanced our standard safety processes and cleaning procedures based on safety guidelines issued from the state government. Some of those measures include:
Equipment spacing/availability will ensure 6-feet social distancing requirements
Seating and waiting areas have been modified to maintain social distancing requirements
All staff will be wearing masks
Masks are required to enter any BayCare facility. In the fitness center, vaccinated guests may remove their masks. Unvaccinated guests are encouraged to continue wearing masks.
Towels are available and should be used
Mats, weights, jump ropes and other equipment should be wiped after each use
We recommend that you bring your own mat and props for Mind/Body classes (blocks, bolsters, straps)
Disinfectant spray will be available in locker rooms and showers
All the fitness centers will always be cleaned prior to opening
Staff will monitor member cleaning of equipment before and after use
There will be increased sanitizing stations around each facility including gym wipes and hand sanitizer
Blood pressure checks will be done only in the case of an emergency
Coach consults will be modified to meet CDC Guidelines
Thank you for trusting BayCare with your wellness journey. We're committed to helping you meet your fitness and wellness needs.