Morton Plant Hospital Offers New Technology to treat Neurological Disorders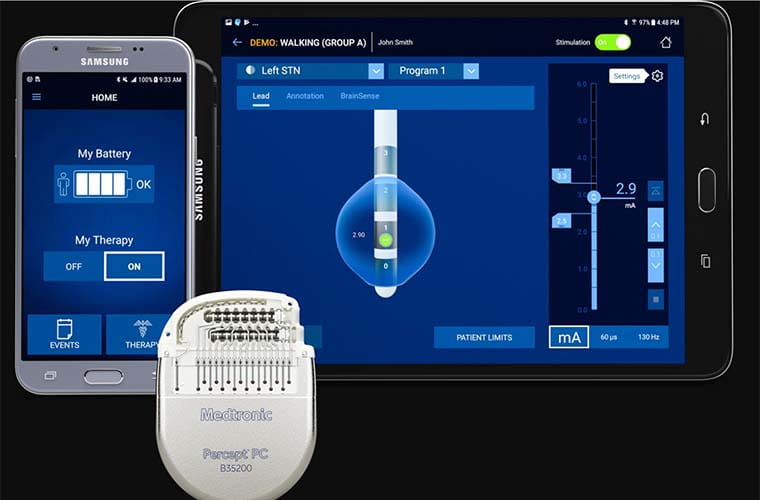 First in Florida and Only Hospital in Tampa Bay to Offer BrainSense™
CLEARWATER, Fla., (Jan. 7, 2021) – Morton Plant Hospital was the first hospital in the state and continues to be the only hospital in Tampa Bay to offer patients with debilitating neurological disorders such as Parkinson's and essential tremors a new technology that has the potential to significantly improve their quality of life.
The new Percept™ PC Deep Brain Stimulation (DBS) system with BrainSense™ technology from Medtronic promises to give physicians the opportunity to learn what is happening in the brain when the patient experiences symptoms.
While surgeons at Morton Plant have been performing DBS surgery for years, the new technology goes a step further in personalizing the treatment.
"We have seen multiple patients' lives changed using the previous DBS systems, but with the added layer of BrainSense™, we have the potential to access brain information that we have not seen before," said Neurologist Kamilia S. Nozile-Firth. "We are expecting to be able to tailor the treatment to optimize each patient's outcome."
During DBS surgery, a neurosurgeon implants electrodes that are connected to a stimulator device into an area of the brain that controls movement. Similar to a heart pacemaker, a neurostimulator uses electric pulses to regulate brain activity and interrupt the disease signal. To ensure precise placement, the procedure requires a dedicated intraoperative team that includes a neurosurgeon with specialized training in stereotactic technique, a movement-disorders neurologist and an anesthesiologist.
A few weeks after surgery during an office visit, the neurologist begins to program the device to send small electrical impulses through the electrodes to ease symptoms of movement disorders.
Previously, the only opportunity to see how the brain reacted to specific symptoms was at the time the neurosurgeon implanted the device. With the Percept™ system, physicians can continually track patient brain signals and correlate these with patient-recorded actions or experiences, such as symptoms, side effects or medication intake. This allows for a more precise adjustment of DBS settings for better symptom control and fewer side effects.
When asked about the difference in BrainSense™ vs. standard DBS, neurosurgeon Dean Gobo, MD, said, "This is the difference between the telegraph and the telephone. It is one-way communication versus listening and responding to what is being said."
Percept gives physicians information within a patient's brain that up until now has not been accessible. This is information that can be used to better target therapies and treatments and thus improve patients' lives.
About Morton Plant Hospital
Since 1916, Morton Plant Hospital has been committed to improving the health of all we serve through community-owned health care services that set the standard for high-quality, compassionate care. Our 613-bed hospital is proud to offer nationally recognized care delivered in more than 50 specialty areas. Morton Plant Hospital offers innovative, accessible, and quality services to provide our community with a lifetime of compassionate, convenient care. For more information, call (727) 953-6877, or visit us on Facebook or at 300 Pinellas St., Clearwater, Fla.
About BayCare Health System
BayCare is a leading not-for-profit health care system that connects individuals and families to a wide range of services at 15 hospitals and hundreds of other convenient locations throughout the Tampa Bay and central Florida regions. Inpatient and outpatient services include acute care, primary care, imaging, laboratory, behavioral health, home care, and wellness. Our mission is to improve the health of all we serve through community-owned, health care services that set the standard for high-quality, compassionate care. For more information, visit BayCare on the Web at www.BayCare.org.