Clinical expertise. Compassionate dedication. Experienced innovators. It's our teams that make the difference.
BayCare is the leading provider of adult and pediatric heart care in Tampa Bay.*

Pressure, discomfort, tightness, or a squeezing feeling in your chest. Shortness of breath. Exhaustion after exertion. These feelings could be symptoms of heart disease and may be your heart's way of cautioning you to slow down and get your heart examined.
Heart disease can take many forms. And that's why it's important to have a team of high-quality heart experts in a health system ready to diagnose and treat heart diseases whenever you need it. Whether it's the most common form of heart disease in coronary artery disease (CAD), diseases that affect the structure of the heart muscle or its valves, heart rhythm disorders, heart failure, or even pediatric and congenital heart disease, rest assured BayCare has more than 265 heart experts who can diagnose heart diseases and offer treatment options and procedures that are right for you or your loved ones. Our heart experts including non-invasive and interventional cardiologists, electrophysiologists, and cardiovascular surgeons are ready to provide a comprehensive range of high-quality cardiovascular care for all your heart's needs at 11 hospitals full of advanced technologies and specialized programs like those top-rated for open-heart surgery.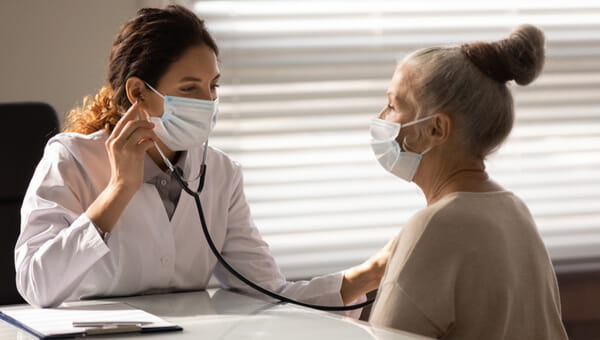 So, if you or your doctor suspect you may have heart condition, don't wait. When it comes to your heart, time is of the essence. Even during these times. To protect you from COVID-19, we've put enhanced safety measures in place at all our facilities.
If you are experiencing pressure, heaviness or pain in the chest, arm, jaw, or below the breastbone, either alone or in combination with sweating, nausea, extreme shortness of breath, or irregular heartbeats, you may be having a heart attack. Please call 911 immediately.
*Based on an aggregated number of adults and children who needed inpatient or outpatient care for cardiovascular problems as reported by the state of Florida for the four county area of Hillsborough, Pasco, Pinellas and Polk from July 1, 2020, through June 30, 2021.
For a referral to a heart specialist, fill out the referral form or call us at (855) 211-3627.