What's Your Sleeping Position
Are you a yearner? A starfish? Maybe you even sleep like a log. We all have our favorite sleeping positions, but some are better than others when it comes to our health.
Back sleeping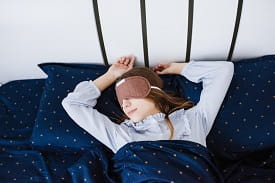 Back sleepers come in two varieties: the soldier lies straight and flat with arms down to their sides, while the starfish likes to sleep with their arms flung up by their head and with their legs… well, wherever they land.
Good for:
Acid reflux, but sleep on a wedge or an extra pillow to keep your throat higher than your stomach
Joint and muscle pain
Beauty sleep (helps prevent wrinkles)
Bad for:
Side sleeping
There are three basic side-sleeping positions:
The fetal position, with knees curled up and chin tucked
The yearner, with arms out in front and knees slightly bent
The log, with legs straight and arms down to the sides
Good for:
Back pain
Constipation
Acid reflux (but lie on left side)
Sleeping while pregnant
Blood flow
Brain health
Bad for:
Wrinkles, due to face being smashed into the pillow
Shoulder and hip pain on "bottom" side; put a pillow between your knees to keep hips aligned
Stomach sleeping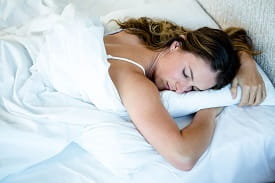 If you like to sleep on your stomach with your arms either hugging a pillow or tucked underneath one, then you're in the freefall position. Some people avoid the pillow altogether and sleep with their arms at their sides and head turned to one side.
Good for:
Bad for:
Wrinkles
Back pain, because the spine isn't in a natural position
Neck pain, because the head is turned to one side for hours at a time
If you're only comfortable sleeping on your stomach, try putting a pillow or a rolled towel under your pelvis to keep your spine aligned, and use a very thin pillow under your head (or none at all).