Mmm, Mmm, Good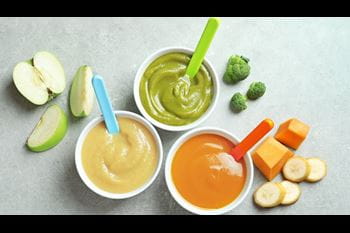 The American Academy of Pediatrics recommends that babies start solid foods at around 6 months of age, so if your baby hasn't tried solids yet, now would be a great time to try.
Store-bought vs. homemade baby food
Store-bought baby food
You can't beat the convenience of going to the grocery store and loading up your cart with dozens of tiny jars of pureed food. You can assume it's safe and nutritious, and contains everything your baby needs, because otherwise, it wouldn't be sold in stores. However, these tiny jars can be quite expensive, and you only have so many choices available. These downsides may or may not outweigh the convenience, and that's a very personal choice.
Homemade baby food
Decidedly less convenient, but much more cost effective, making your own baby food is another option. Besides saving money, you can choose from a virtually unlimited number of foods and flavor combinations, and you'll know exactly what ingredients are in your baby's food.
Important considerations
Make sure you follow food safety guidelines when making and storing baby food. You can check out FoodSafety.gov for a complete guide to safe baby food prep and storage. In addition, here are some other tips and things to consider before getting started:
Start by introducing single foods only, rather than combinations, in case of allergy. Do not use honey or cow's milk until after your baby is a year old.
Use fresh produce when possible, rather than frozen or canned, and wash thoroughly.
Peel, core and remove seeds from fruits and vegetables.
If cooking vegetables, gently and lightly steam until soft to preserve nutrients.
Don't use salt, sugar or any other seasonings.
When working with meats, trim all visible fat, and cook thoroughly by baking, stewing or broiling. Remember to cut pieces small to avoid choking hazards.
To make purees, put the vegetable or fruit in a blender, add a small amount of water if needed, and puree until smooth. Meat purees will also need a small amount of fluid (water or meat juices) to make a smooth texture.
Once baby has tried multiple foods with no problems, you can begin making combinations like meat and veggies. Just don't add any brand new foods to the mix.
Storage
Baby food can be stored in the refrigerator for up to 48 hours, or in the freezer for up to four months. Store in small portions, because once baby's spoon has touched the mouth and then the food again, bacteria are introduced, and you need to throw out any uneaten food in that portion.
Freezing tips
If you like to cook and prepare in large batches, freezing freshly made baby food can suddenly become just as convenient as buying from the store. One tried-and-true technique is to freeze individual portions in ice cube trays, then pop them out and keep them in storage bags. You can also scoop individual portions onto parchment paper or a baking sheet, freeze, and then put the scoops into appropriate containers. Just be sure to label each container with its contents and the date frozen.