Sniffles? Take Heart. We're Here.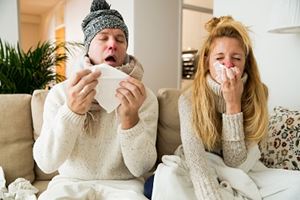 Do you have the sniffles, and feel like a cold is right around the corner? Are you concerned that your constant sneezing might put on a damper on your plans for romance? Take heart – we're here for you with some tips on how to boost your chances of staying healthy and cold-free.
Taking a few simple precautions could help decrease your risk of catching a cold, according to the Centers for Disease Control and Prevention:
If you haven't washed your hands, avoid touching your mouth, nose and eyes because that's how cold-causing viruses could get into your body.
Wash your hands (and your children's hands) with soap and water often, and wash for 20 seconds. Use an alcohol-based hand sanitizer if you're not near a sink.
Avoid people who are sick and who can spread cold-causing viruses.
BayCareAnywhere® is always available during cold and flu season and throughout the year. Our doctors are on hand to help when you need it – from the comfort of your home.
Additional Resources for BayCareAnywhere