Urgent Care
For life's aches, pains, sprains and strains, BayCare Urgent Care can help. With 19 locations across Tampa Bay and surrounding areas, we offer everything from preventive care such as physicals, to urgent care for colds and flu, for adults and children age 2 and older. With extended evening and weekend hours, you can walk in when it's convenient for you.
Some locations may have reduced hours or be temporarily closed. We recommend calling ahead to confirm before you arrive. Find your nearest BayCare Urgent Care.
To help protect the health and safety of patients and team members, BayCare Urgent Care is not allowing visitors in clinical areas at this time, but making exceptions for minors or those adults needing support during evaluation and medical decision-making.
Select Urgent Care Locations Offer Rapid COVID-19 PCR (LIAT) Testing for Business & Summer Travel
As many testing sites across Tampa Bay beginning to close, select BayCare's Urgent Care centers are offering an effective and reliable rapid test that can detect both COVID-19 and the flu. The test is available to asymptomatic people wishing to confirm they are negative for COVID-19 before traveling or visiting loved ones. This PCR (LIAT) test is approved for most airlines and most travel destinations, however, it is the patient's responsibility to check the regulations and test requirements needed for your destination.*
This service will offer a real-time reverse transcription polymerase chain reaction (RT-PCR) that detects both flu and COVID-19 with the same reliability as a lab-based test. Patients may receive test results in 30 minutes on-site. Due to limited supply, the RT-PCR will be available on a reservation basis. Reservations can be made using the Save Your Spot tool. The test will not be billed to insurance but will be available as a self-pay service at a cost of $150.
*At this time, this testing isn't approved for travel to Hawaii.
Even if you're not prepared for an injury or illness, we are. You don't need an appointment to be treated and with extended evening and weekend hours, we are here when you need us. Come to a BayCare Urgent Care Center for fast health care for adults and children ages two and older. En Español.
Check Your Symptoms
Not feeling well? Describe your symptoms and we'll guide you where to go for care.
When to Use Urgent Care
Urgent Care centers might be the best possible solution for illnesses or injuries that happen on weekends or after office hours. Urgent care centers are equipped to treat a variety of conditions and injuries with on-site lab and radiology services. You will typically receive care quicker and at a lower cost than at an ER.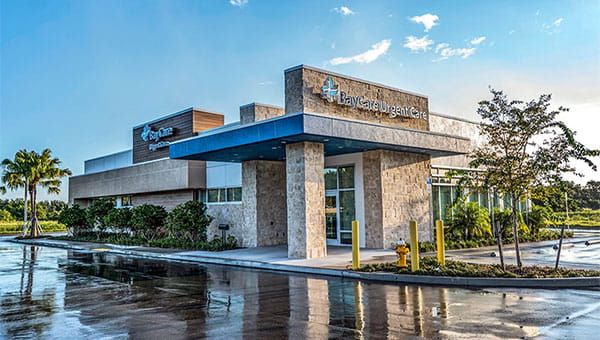 Occupational Health
We offer a full range of occupational health services to support you in maintaining a healthy, safe workforce while reducing the overall cost of health care for your company and employees.