Healthy Lifestyle Promotes Promising Recovery for Breast Cancer Survivors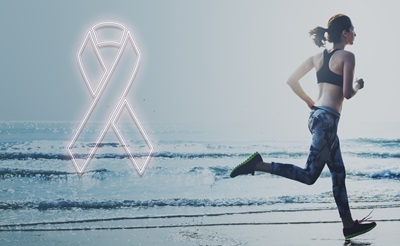 If you're a breast cancer survivor, getting enough exercise and maintaining a balanced diet are important for your health.
The Susan G. Komen® organization notes breast cancer survivors "should follow the same healthy diet recommended for everyone" and that this diet supports overall health.
The organization encourages survivors to maintain a healthy weight with these tips:
Limit high-calorie beverages and food and boost your physical activity
Every day, eat at least 2½ (use the dash between 2 and ½) cups of fruits and vegetables
Select 100 percent whole grain foods, such as whole grain cereals and breads, quinoa, brown rice and popcorn
Every day, get enough vitamin D and calcium: For women between 51 and 70 years old, "enough" means 1,200 mg of calcium and 600 IU of vitamin D
Eat more "good fats" (monounsaturated fats like canola oil and olive oil) and decrease your intake of "bad fats" (trans fats and saturated fats)
Choose more fish, chicken or beans while cutting back on processed meat and red meat
Limit yourself to less than one alcoholic drink per day if you drink alcohol
Check with your health care provider about improving your diet and before starting any new exercise routines.