Virtual Nurse Pilot Program Pleases Patients and Nurses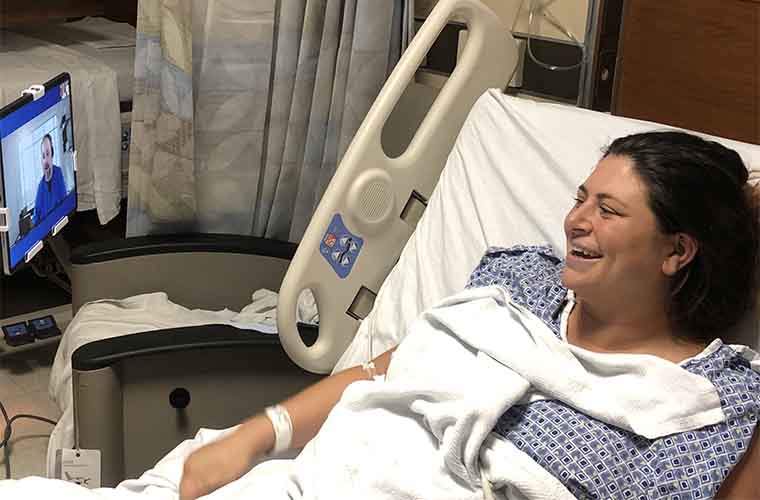 Patient Samantha Anderson chats with her virtual nurse Dave Paliga prior to her discharge.
Coming to a hospital bedside near you: A dedicated, virtual nurse ready to talk patients through every possible question for discharge.

Developed amid the nursing shortage of the COVID-19 pandemic at Morton Plant Hospital (MPH) in Clearwater, the BayCare virtual nurse program has enabled bedside nurses to spend more time directly caring for patients while shifting administrative tasks and education to virtual nurses with the help of technology.

The result has been a resounding success, winning endorsements from patients and nurses. The successful pilot led to plans to expand the program to all medical/surgical units at Morton Plant over the next year. Mease Countryside Hospital in Safety Harbor also has one unit using the virtual nurse for discharge. Additional software development and continuous evaluation with positive results could lead to expansion of the virtual nurse program across BayCare's entire 16-hospital, four-county network.

The program is just one more example of how BayCare is looking to innovation to improve patient care and streamline workload for clinical teams.

"Patients tell us they appreciate the undivided attention of the virtual nurse while our nurses working at the bedside appreciate being able to focus on patients who still need their care in the hospital," said Jen Ransford, vice president/chief nursing officer for BayCare's West Region.

A survey of MPH bedside nurses showed 77% spent up to three hours per shift completing admission, discharge and patient education tasks – making it an easy target to address. The idea of centralizing discharge education and processing and using technology to make it easier to "travel" between patients was born.

In May of 2022, Ransford tasked Tim Tidwell, nurse manager of 45-bed unit Barnard 6 (B6), with developing the virtual nurse concept to pilot on his unit. The goal was to support nurses better while also ensuring BayCare maintained its high-quality patient care.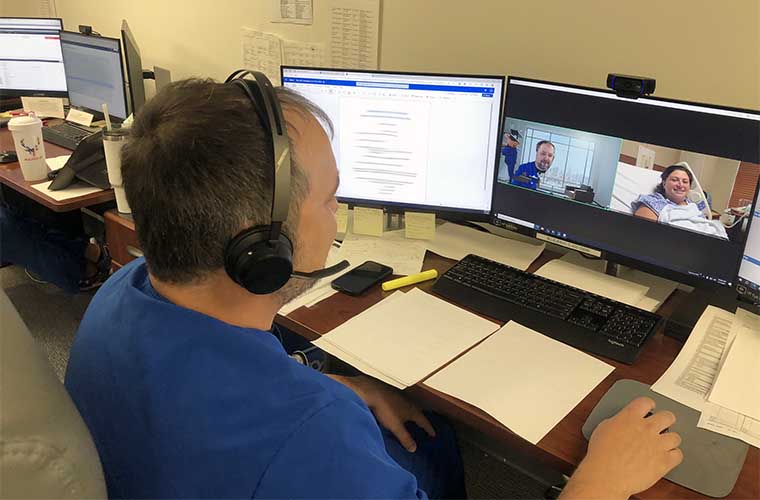 Virtual nurse Dave Paliga speaks with B6 patient Samantha Anderson from his desk in the virtual nurse office.
Charge nurses, case managers, educators and bedside nurses weighed in to help fine- tune a process that could increase satisfaction for the bedside nurse and the patient. The development team relied on existing software and tools to speed proof of concept.

After testing and fine-tuning some processes, Morton Plant began piloting the virtual nurse on its B6 floor in July 2022. Under the program, BayCare nurses sit in a central location at the hospital behind a computer. There they have access to patients' medical records, a web camera, multiple monitors and a headset. Support teams deliver an iPad on a tripod to the patient's bedside, enabling them to have a secure video call with the virtual nurse. The nurse talks through the patient's discharge orders, being sure to take as long as needed to answer all questions.

Among the findings: Nurses like the opportunity to serve their patients in a different way. Nurse Lisa Santana has found she likes breaking up her schedule between the bedside and virtual shifts. Indeed, the pilot project found that by using nurses familiar with a team and with a specific unit helps the communication and coordination on behalf of patients.

"As the virtual nurse, I can focus solely on ensuring the patient understands the discharge instructions and take as much time as necessary to answer questions," Santana said. Then, "when I am on the floor, I don't have to worry about the administrative tasks. I can take care of my patients, and when it's time for discharge… (the virtual nurse takes care of the rest)."

Virtual health care is nothing new. BayCare has been using virtual nursing in some capacity since 2015, when a virtual nursing unit was created to monitor ICU patients. During the pandemic, use of telehealth appointments also exploded in the industry and at BayCare. But the virtual nurse discharge program is BayCare's first use of the virtual space for administrative tasks in the acute care setting.

"Our patients' response has been overwhelmingly positive," said Tidwell. "They receive uninterrupted attention. The virtual nurse is solely dedicated to one patient when going through the discharge information. The patient or patient's family can ask anything and take as much time as needed."

Ransford said the work will continue, "We hope to continue fine-tuning and expanding the virtual nurse model with a goal of making the bedside nurse's job easier," she said. "Lessening the burden of balancing time constraints with providing the best care possible will allow nurses to get back to the art of caring and connecting with patients."