Cardiac Catheterization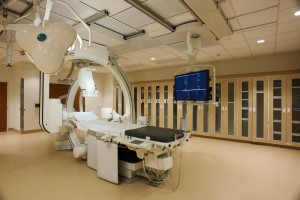 Cardiac catheterization (cardiac cath) is a procedure we use to diagnose and even treat certain heart conditions. Heart specialists called interventional cardiologists perform this Cardiac Catheterization in Tampa, FL procedure in a specialized cardiac cath lab.
We have three cardiac cath labs. We equipped the labs with the most sophisticated imaging equipment available. We also placed the labs right next to our cardiovascular operating room, so if the need for surgery arises, we can perform it without delay. Learn more about the procedure rooms at the Heart Institute.
Features of our cardiac cath program include:
High volume. Our team has performed more than 74,000 cardiac catheterizations. The high volume of procedures we perform highlights our team's experience and expertise.
Rapid treatment. When paramedics inform us that a heart attack patient is on the way, our team mobilizes immediately. We are ready for you the moment you enter the hospital. We quickly diagnose you and perform a cath as quickly as possible, saving your heart muscle and function.
24/7 availability. We are available around the clock to offer our services to the community, diagnosing and treating problems with coronary arteries and heart valves.
Evidence-based medicine. We are involved in the latest research efforts and clinical trials, working to bring you the most advanced, effective treatment options.
Personalized treatment. We know that heart care is not one-size-fits-all. We work with you to find the course of treatment that will offer you the best outcome.
What to Expect at a Cardiac Catheterization
Sometimes, we perform a cardiac cath as an emergency treatment for a heart attack. If you experienced a heart attack, we use a procedure called an angioplasty to open up blockages and allow the blood to flow freely. Learn how to recognize the signs of a heart attack and stroke.
Other times we perform it as a scheduled procedure, perhaps to diagnose a heart condition or place a stent. Learn more about heart conditions we treat.
During a cardiac cath, we will:
Insert an intravenous (IV) line
Thread a catheter (a long, thin tube) through your blood vessels until it reaches your heart
Perform the diagnostic or treatment procedure, such as:

Collecting blood samples
Measuring the pressure around your heart
Measuring the oxygen in your heart
Examining your arteries
Performing a biopsy of your heart (taking a small tissue sample for analysis)
Performing an angioplasty and/or placing a stent
Cardiac Catheterization: Services We Provide
Some of the cardiac cath services we offer include:
Diagnostic left and right heart catheterization
Balloon angioplasty, a procedure to open up your arteries
Stent implants, both metal and drug-eluting
Brachytherapy, atherectomy and cutting balloon for coronary lesions
Valvuloplasty
Heart Care: Prevention and Rehabilitation
We work with you before, during and after your procedure, helping you recover from and prevent future heart problems.
Our team is committed to patient education and heart disease prevention. Talk to us about undergoing regular heart screenings. Learn more about heart screenings and heart disease prevention guidelines.
After a heart attack or heart procedure, we may recommend cardiac rehabilitation. Our heart team collaborates to ensure that you receive all the care you need, from beginning to end. Learn more about cardiac rehab at St. Joseph's hospital.
Contact Us
For more information or for a physician referral call (813) 644-4322. Get directions to our facility.