Deluxe Accommodations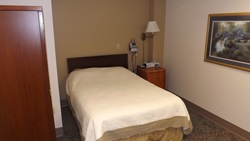 Our private rooms are comfortable and designed to make you feel at home while you are here for your screening.
The St. Anthony's Sleep Disorders Center boasts a Bed and Breakfast-like atmosphere.
Enjoy all the extras when you stay for an overnight sleep study including:
Private Rooms
400-thread count Egyptian cotton sheets
Adjustable "air chamber" mattresses for individualized comfort and support
Breakfast menu
Shower access
Built-in stereos with individual room volume controls
Relaxing sound machines and music
Wireless Internet access (WiFi)
Fast turnaround of report results
Open seven nights a week
For appointments, please call (727) 820-7373. For general sleep disorders questions, please call (727) 820-7424.