The Center for Advanced Valve and Structural Heart Care at Morton Plant Hospital
Treating patients since February of 2012, the Center for Advanced Valve and Structural Heart Care continues the legacy of providing innovative heart care to patients throughout the Tampa Bay region. The Center is part of the many heart and vascular services provided at Morton Plant Hospital, an award-winning Truven Top 50 Cardiovascular Hospital where over 500 open-heart surgeries, 1,800 interventional cases, and 2,700 diagnostic cardiovascular services are performed annually. Additionally, more than 1,800 Transcatheter Aortic Valve Replacement (TAVR) procedures have also been performed here.
Morton Plant Hospital is also the only hospital in the United States to be awarded the Truven Top 50 Cardiovascular Hospital designation 15 times.
As the first multidisciplinary center of its kind in Tampa Bay, the Center for Advanced Valve and Structural Heart Care holds the Transcatheter Valve Certification from the American College of Cardiology (ACC). This certification uses an external review process that pairs with established national clinical databases to monitor patient safety and real-world outcomes for transcatheter valve therapies. Hospitals that achieve this certification use best practices for implementing evidence-based medicine to support patient-centered decision-making and track key performance metrics to better identify opportunities for improvement. We're dedicated to providing the highest quality heart care for complex structural heart and valve conditions including:
Aortic valve stenosis: A condition where the aortic valve of the heart can become thickened and too narrow, keeping the valve from functioning very well. Listen to cardiovascular surgeons Dr. John Ofenloch and Dr. Joshua Rovin discuss traditional and minimally invasive treatment options for aortic stenosis, including transcatheter aortic valve replacement (TAVR).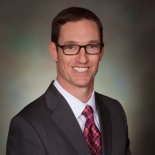 Aortic Stenosis Causes, Symptoms and Progression
September 14, 2022
Aortic stenosis is one of the most common and serious valve disease problems. Listen as Dr. Joshua Rovin, a cardiovascular surgeon and director of the Center for Advanced Valve and Structural Heart Care at Morton Plant Hospital, discusses the main symptoms, causes and progression of aortic stenosis.
Mitral valve stenosis: A condition where the mitral valve in the heart narrows, keeping it from functioning well.
Pulmonary valve stenosis: A condition where the pulmonary heart valve narrows, resulting in less blood flow to the lungs.
Aortic or Mitral valve regurgitation: A condition where blood leaks back through the aortic or mitral valve, resulting in blood flowing in the wrong direction within the heart.
Tricuspid valve disease: A condition where the valve between the heart's two right chambers (the right atrium and right ventricle) does not function properly.
Learn more information about the different types of adult structural heart and valve disease provided by The Society of Thoracic Surgeons.
Learn more about the Hybrid Operative Suite at Morton Plant Hospital.
Unique Services We Provide
Utilizing a team of cardiac specialists including cardiovascular and cardiothoracic surgeons, cardiologists, cardiac anesthesiologists, and other cardiac care specialists, the Center has treated more than 2,000 patients. Listen to Dr. John Ofenloch share his thoughts on the benefits of receiving care at Morton Plant Hospital. In addition, the Center participates in a multitude of national and international cardiovascular clinical research trials designed to advance clinical knowledge and broaden the ability to positively impact patient lives. Hear more about the benefit of clinical trials.
The Center treats patients with a variety of heart valve disorders with state-of-the-art therapies and procedures including:
For Aortic Valve Stenosis, Regurgitation, and other aortic diseases:
Minimally invasive and standard aortic valve repair and replacement
Aortic surgery including both open and endovascular treatment for thoracic and abdominal aortic disease including aneurysms and dissections (TEVAR and EVAR)
For Mitral Valve Stenosis and Mitral Valve Regurgitation:
For Tricuspid Valve Disease:
Open and transcatheter tricuspid valve repair and replacement
Other Structural Heart Procedures:
Patent foramen ovale (PFO) closure
Atrial septal defect (ASD) closure
Paravalvular leak (PVL) closure
We also provide minimally invasive heart surgery options for patients with valvular heart disease that can also be combined with other cardiac procedures. Learn more about the disorders we treat in this video with Dr. John Ofenloch. For a full list of advanced therapies and procedures, please contact our Center: 855-44-VALVE (855-448-2583).
What Patients Can Expect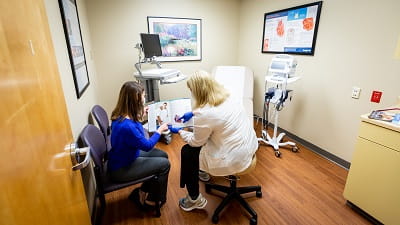 At the Center for Advanced Valve and Structural Heart Care, our team is committed to providing an exceptional experience to patients and families searching for innovative heart care options for structural heart and valve conditions.
Our Center Coordinator works with our patients one-on-one to help guide each patient and his/her family every step of the way through the evaluation and treatment process. At the Center, patients meet with a team of cardiac experts who will perform a comprehensive evaluation to determine a customized treatment plan for each person's condition. Frequently, specific testing is required to complete the evaluation process. Many times, this testing can be performed at the Center or by the physician referring you to the Center. Once all the necessary testing and evaluations are completed, our team discusses potential treatment options with each patient and their families or caregivers. Our team will also assist each patient in managing their disease progression and any necessary treatment, when appropriate. Treatment or care plans for patients evaluated in the Center are coordinated with the patients' referring physicians to ensure a smooth care transition process.
To learn more about the Center for Advanced Valve and Structural Heart Care (Valve Clinic) watch this video from cardiovascular surgeons Dr. John Ofenloch and Dr. Joshua Rovin, both of whom are integral members of our expert care team.
You can also watch videos of our patients discussing their experiences and our physicians discussing some of our treatments at the Center.
Obtaining an Evaluation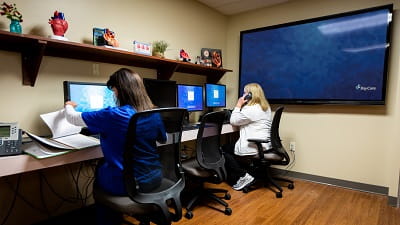 Our care team is deeply committed to a 'share care' philosophy and team approach to caring for our patients. We collaborate with each patient's physician on any treatment plans to ensure open communication and a smooth transition back to that physician's care once any specialty care is completed. Hear our physicians discuss the step-by-step evaluation process a patient referred to the Center can expect.
For those patients with a heart valve or structural heart condition who would like to be evaluated by our team:
If possible, each patient should first consult with his or her primary care physician or cardiologist.
We also welcome patients to contact our Center Coordinator directly to discuss treatment options or obtain additional information about our services. Please call 855-44-VALVE (855-448-2583).
For physicians who would like to refer a patient for evaluation by our expert team:
Please contact the Center for Advanced Valve and Structural Heart Care at (855) 44-VALVE (855-448-2583).
The Center for Advanced Valve and Structural Heart Care is located inside Morton Plant Hospital (west entrance):
300 Pinellas St.
Clearwater, FL 33756
(855) 44-VALVE (855-448-2583)