Kevin J. Makati, MD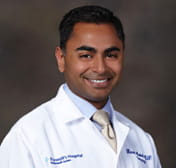 Electrophysiology Lab
St. Joseph's Hospital
St. Joseph's Hospital-North
Certified by the American Board of Internal Medicine
Kevin J. Makati, MD, received a bachelor of science degree from Boston College in Chestnut Hill, Massachusetts, and a doctor of medicine degree from the University of Connecticut School of Medicine in Farmington, Connecticut.

Dr. Makati completed his internal medicine residency at Washington University School of Medicine, Barnes-Jewish Hospital, in St. Louis, Missouri. He completed his fellowship training in cardiology and cardiac electrophysiology and pacing at Tufts University Medical Center in Boston, Massachusetts.
Dr. Makati is board certified in cardiovascular diseases, clinical cardiac electrophysiology, internal medicine, nuclear cardiology and echocardiography. Dr. Makati has also completed additional training and published research in Bordeaux, France, with Dr. Michel Haïssaguerre, who pioneered atrial fibrillation ablation.
"The work performed by Dr. Michel Haïssaguerre has revolutionized management of advanced atrial fibrillation and has, in many respects, set the standard of care. The experience has helped shape my approach to managing atrial fibrillation," said Dr. Makati.
Dr. Makati has published numerous book chapters and publications on atrial fibrillation as well as topics including defibrillators and advanced ablation. He has also presented at conferences nationally and internationally. He is currently an assistant professor at the University of South Florida, Department of Cardiology. Dr. Makati practices at St. Joseph's Hospital and St. Joseph's Hospital-North.