BayCare's and St. Joseph's Hospitals' HealthZone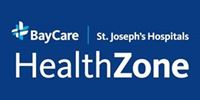 Take a healthy walk with BayCare, St. Joseph's Hospitals, the New York Yankees and the Tampa Tarpons!
Next time you visit George M. Steinbrenner Field in Tampa, visit BayCare's and St. Joseph's Hospitals' HealthZone Boardwalk. Follow the footprints around the perimeter of Steinbrenner Field and discover the fun facts about the benefits of walking.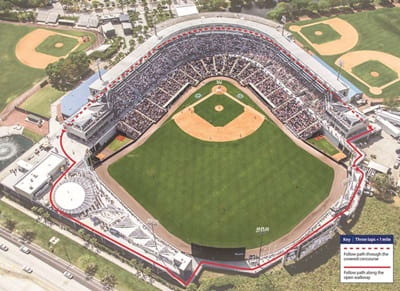 Three laps around equals 1 mile.
Lace up your sneakers and take a few laps! Then, share a photo on social media and tag @GMSField and @BayCare.
Did You Know?
Walking can improve your mood.
Walking may lower your risk for chronic diseases like diabetes, heart disease and stroke.
Experts recommend that adults get at least 150 minutes of physical activity each week.
Walking can strengthen your bones and muscles.
A 30-minute walk can burn 200 calories.
Walking an extra 20 minutes a day will burn off seven pounds of fat a year.
Walking can improve your balance and coordination.
Walking approximately 2,000 steps equals 1 mile.
The average person walks 110,000 miles in a lifetime – more than four times the circumference of the Earth.
Walking is the most popular aerobic physical activity in the U.S.
Before starting any exercise program, it is important to first check with your primary care physician. Don't yet have a primary care physician? Let us help find a doctor near you. Or, you can call 1-800-BAYCARE and speak directly with a customer service agent 24/7.
Has an unexpected illness thrown you a curveball? BayCare has all the bases covered and is pleased to offer HealthNav™, our free app that helps you get the right care at the right place. With the HealthNav™ app you can identify your symptoms quickly and get connected to treatment options nearby so that you can get back in the game. All you need is a smartphone, tablet or computer.
Download the HealthNav™ app from your iPhone or Android's app store, or go to BayCareHealthNav.org.