Play to Ease Their Fears
Accidents happen unexpectedly. Bumps on the head during a soccer game, a broken bone after falling off a bike or an asthma attack can warrant a trip to the hospital. Hospitals are full of large and noisy machines, tons of doctors and nurses and unfamiliar medical instruments which can create a very overwhelming environment for you and your child.
There are a number of things you can do to help ease your child's fears during their time in the hospital. The most important thing you can do is try and stay calm yourself. As a parent, your nerves are rattled because your child isn't feeling well and there is not much you can do to comfort them. If you remain calm, adjust your tone of voice and keep your body language in check this can help your child feel comfortable.
A hospital environment can feel sterile and cold, but a few items from home can warm up the space and make it feel familiar. If your child has a favorite blanket or stuffed animal, a picture of the family pet or even a favorite book they like to read, this could help the child feel less anxious.
Another great way to not only ease their fears, but pass the time in a hospital or doctor's office, is a game. Mobile apps have become the most popular form of gaming for kids and adults. St. Joseph's Children's Hospital and BayCare Health System have created a G-rated, family-friendly game called, UnMonsters. This free game helps you and your kids understand that sometimes the things that frighten us aren't so scary after all. Challenge your kids to a high score competition and see how many you can round up.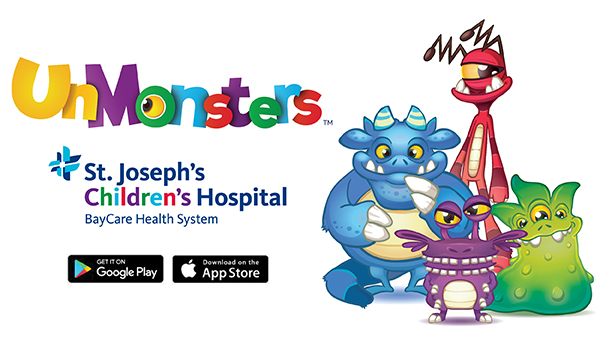 UnMonsters by St. Joseph's Children's Hospital
The UnMonsters are loose, but don't let that scare you. You can round them up with a lasso for more points or hold & drag them one by one if you need to rearrange where they are.