Your Emotional Health After Bypass Surgery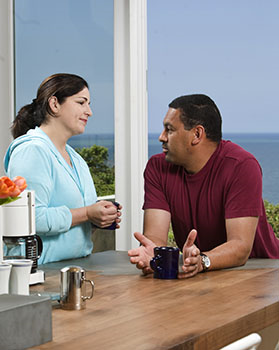 Having heart disease and heart surgery may trigger a variety of feelings. You may be relieved to have had treatment, but you may also feel depressed or angry at times. You may also feel that your loved ones don't let you do enough. These feelings are normal, but they can make you short-tempered with those around you. Letting them know how you feel will help avoid misunderstandings.
Talking about your feelings and needs
Your loved ones can support you better if they know how you feel. When you talk with your spouse or other loved ones:
Choose a time when you can relax and talk without being disturbed.

Use terms such as "I feel…" or "I need you to…" This tells your loved one how you feel without blaming him or her.

Be sure to give your loved one time to say what he or she feels and needs. This is a hard time for those close to you, too.

You may want to talk first to a friend or family member who doesn't live with you. This can help you understand your own feelings.
Notes to family and friends
Accept that your loved one may be depressed or angry at times. Try not to blame yourself for these feelings.

Recognize that you may feel angry or depressed, too. Try to talk openly about your feelings. You may want to talk with a friend or other family member first.