Your Child's Heart Surgery: Preparation
Your child needs surgery to treat a heart problem. This sheet will help you and your child prepare for the surgery.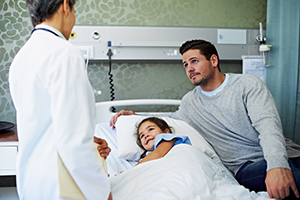 Before surgery
You and your child will make a visit to the hospital a few days to weeks before surgery to do the following:
Register your child for surgery. Be sure to have identification and insurance information with you. Staff can help answer any questions. 

Have a physical exam, health history, and tests. Your child will be examined. Several tests, including blood tests, electrocardiogram (EKG), or echocardiogram, will be done to see if he or she is healthy enough for surgery.

Meet with the surgeon and sign consent forms. The surgeon will explain the surgery in detail to you. You'll be told about the risks and benefits and what to expect before and after surgery. You'll also need to sign consent forms if you agree to have your child treated. Be sure to ask any questions you have at this time. Also, tell the surgeon if your child has any allergies or is taking any medicines. The surgeon will advise you about any changes in medicine that are needed before the surgery.

Meet with the anesthesiologist. You'll learn how your child will be kept asleep and comfortable during the surgery.

Take a tour of the patient care areas. You and your child may want to see the area where surgery is performed. You may also want to visit the intensive care unit (ICU) or recovery area where your child will stay following surgery.

Transfusions and directed blood donation. Your child may need a blood transfusion in surgery. All blood is matched to your child's type and is screened for infections like hepatitis. Blood is often in short supply, so donations are always welcome. You may wish to donate blood for your child in case a blood transfusion is needed during the surgery. Directed blood transfusions, in which your child will receive your blood if you have a compatible type, can be difficult to arrange. Talk with your child's healthcare provider to find out if it's possible. 
If your child is sick before surgery
Call the surgeon if your child has a fever or other symptoms of an infection within 7 days before the surgery.
The day before surgery
Tips for the day before surgery include the following: 
Follow any directions your child is given for taking medicines and for not eating or drinking before surgery.

Your child may bring a favorite toy or blanket to the hospital for comfort. This item stays with your child until the surgery begins.
The day of surgery
Here is what to expect the day of surgery: 
You can stay with your child in the preoperative area. Reassure your child that you'll be nearby during the surgery.

You can stay in a waiting area until the surgery is complete.
Helping your child prepare for surgery
You can help your child by learning more about the surgery and preparing your child in advance. Many hospitals also have a child life specialist. This person is trained to help children understand what to expect during their treatment experience. Books, videos, dolls, and toys may be used to help explain the surgery to your child:
Explain what will happen during the surgery in brief and simple terms. Speak to preschool or school age children a few days in advance. Older children and teens should be given information earlier.

Make sure your child understands that the surgeon will be operating on the heart. Point to the heart area on the body. Or, if your child is older, showing pictures may help. It's important to explain that the surgery will leave a scar.

Allow your child to ask questions. Your child may be worried that the surgery will hurt. Reassure your child that medicine will be given so he or she will be comfortable and asleep during the surgery. Explain that your child will have no memory of the surgery when he or she wakes up.

Let your child know that you'll be at the hospital in a nearby room during the surgery. Your child will be able to see you when the surgery is complete.