When Your Child Needs an Abdominal Ultrasound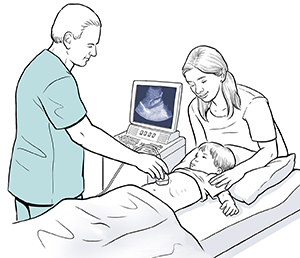 An abdominal ultrasound uses sound waves to take pictures of abdominal organs. It's painless and noninvasive and does not involve any radiation exposure. It's often used to assess abdominal pain or to find problems like enlarged organs. An abdominal ultrasound takes about 30 to 45 minutes.
Before the ultrasound
What to expect before the ultrasound: 
What your child needs to do to get ready for the test depends on the area of the body that will be looked at. Follow any directions you're given for having your child not eat or drink before the procedure. Your child's healthcare provider will give you instructions if needed.

Your child may be asked to have a full bladder for the test.

Follow all other instructions given by the healthcare provider.
Let the sonographer know
For best results, let the sonographer know if your child:
Has had abdominal surgery

Has had ultrasounds before

Has any health problems

Is taking any medicines
During the ultrasound
An ultrasound is usually done by a sonographer. A radiologist can also do the ultrasound or is on call in case of problems. This is a healthcare provider trained to use ultrasound or other imaging techniques to test or treat patients:
You can stay with your child in the exam room. Your child can also bring a favorite toy or object like a stuffed animal or blanket for comfort.

Your child lies on an exam table with his or her belly uncovered.

Clear, nongreasy gel is applied to your child's skin.

A handheld probe (transducer) is moved across your child's belly.

Sound waves from the transducer are processed by a computer. Images of your child's abdominal organs are seen on a computer screen. 

Your child may be asked to take deep breaths and hold them, or roll from side to side.
Although the sonographer can answer questions about the test, only a healthcare provider can explain the results. 
After the ultrasound
What to expect after the ultrasound: 
Unless told not to, your child can return to his or her normal routine and diet right away.

The ultrasound images are reviewed by a radiologist, who may discuss early results with you. A report is sent to your child's healthcare provider, who follows up with complete results.
Helping your child get ready
You can help your child by preparing in advance. How you do this depends on your child's needs:
Explain the test to your child in brief and simple terms. Younger children have shorter attention spans, so do this just before the test. Older children can be given more time to understand the test in advance. 

Make sure your child understands which body part is being tested. You can tell your child that an abdominal ultrasound checks for problems around the tummy or belly.

As best you can, describe how the test will feel. There should be no pain when the probe is moved across the belly. This motion may make your child feel ticklish. If your child is told to have a full bladder for the test, it may cause some pressure.

Allow your child to ask questions.

Use play when helpful. This can involve role-playing with a child's favorite toy or object. It may help older children to see pictures of what happens during the test. 
Possible risks and complications of an abdominal ultrasound
There are no known risks or complications linked to abdominal ultrasounds.