When Your Child Has a Food Allergy: Milk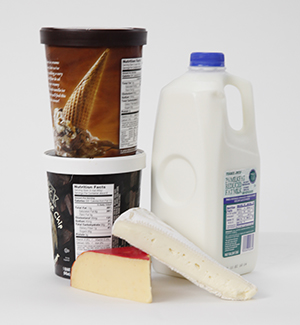 When a child has a milk allergy, even a small amount of milk can cause a serious reaction. For that reason, your child must avoid dairy products and any foods likely to contain milk. Make sure you know:
About milk allergy

What foods to avoid

What to look for on food labels

How to prepare dairy-free meals.
Foods to avoid
Children with milk allergies should avoid all dairy foods, including:
Butter. Also some margarines, butter substitutes, and spreads. Some "nondairy" spreads, including margarine, contain whey, a milk protein.

Cheese. Cheese made from rice or soy may also contain casein, a milk product.

Cream, sour cream, and half-and-half, also some "nondairy" creamers

Ice cream, frozen yogurt, and sherbet

Milk. This includes whole, low-fat, skim, evaporated, condensed, powdered, buttermilk, and goat's milk.

Yogurt
The following foods often contain milk.
Desserts
Baked goods, such as cakes, muffins, and some cookies and pies

Puddings, custards, and cream sauces

Eggnog, milkshakes, and malts

Candy made with milk, such as fudge, caramel, and nougat
Meats, other meat dishes
Meatloaf, breaded meats, and meats containing casein, a milk protein

Many processes meats, including hot dogs, sausages, and luncheon meats

Canned tuna containing casein

Cream soups, bisques, and chowders

Pizza
Starches
Pancakes, waffles, and french toast

Some boxed cereals or precooked cereals

Some breads
Vegetables
Frozen vegetables in sauce

Buttered, creamed, scalloped, or au gratin vegetables

Mashed, au gratin, creamed, and scalloped potatoes. Some french fries may contain lactose, a milk sugar.
Other foods
Salad dressings or mayonnaise containing milk, milk solids, or milk products

Caesar salad and Caesar dressing. These often have Parmesan cheese.

Some high-protein flours and protein powders
Medicines
Vitamins and medicine in pill form. Pills often contain lactose as a filler.

Some dry-powder inhalers used to treat asthma
What to look for on labels
Food labels can be misleading. "Nondairy" foods often contain milk proteins such as casein and whey. And kosher foods labeled "pareve" may have traces of milk from processing. Pareve means the food doesn't contain meat or dairy products. Read labels carefully, and stay away from products that contain:
Casein or caseinates

Hydrolysates

Lactalbumin or lactalbumin phosphate

Lactoglobulin

Lactose

Rennet casein

Whey or whey protein
Allowed foods
These foods are safe for children with milk allergies:
Boxed pastas, such as macaroni and spaghetti

Breads made without milk

Fresh and frozen fruits and vegetables

Fresh, frozen, or canned fruit and vegetable juices

Grains, such as rice, wheat, barley, and oats

Meat, chicken, and fish cooked without butter or other milk products. Precooked meats such as ham may contain lactose.

Noncream soups

Peanut butter and other nut butters made without milk solids

Rice, soy, and nut milks. These are found in most natural food stores and some grocery stores.

Sauces that don't contain milk or cream, such as spaghetti sauce

Tofu and other soy products

Vegetable oils

White or sweet potatoes cooked and served without butter or milk
Cooking without milk
Try these tips for making your favorite recipes without dairy products:
In baking, substitute equal amounts of water, fruit juice, rice milk, or soy milk for cow's milk.

Use 3/4 cup applesauce for every cup of butter called for in baked goods, or use a butter substitute made from soy.

Use chicken broth for cream in sauces and soups, or puree foods for a creamy texture.

Dress potatoes, vegetables, and grains with olive oil, vegetable oil, or soy lecithin spread instead of butter.
Your child needs calcium
Ask your healthcare provider about calcium or vitamin D supplements for your child. Be aware some will contain milk, so be sure to read the labels. These foods are good sources of calcium:
Calcium-fortified orange juice

Canned salmon (with bones) and sardines

Cooked dried beans

Enriched soy milk and rice milk

Soy yogurt

Tofu

Turnip greens, kale, broccoli, and cabbage
If your child has any of the symptoms listed below, act quickly!
If one has been prescribed, use an epinephrine autoinjector right away. Then call 911 or emergency services.
Trouble breathing or a cough that won't stop

Swelling of the mouth or face

Dizziness or fainting

Vomiting or severe diarrhea