When Your Child Has a Food Allergy: Egg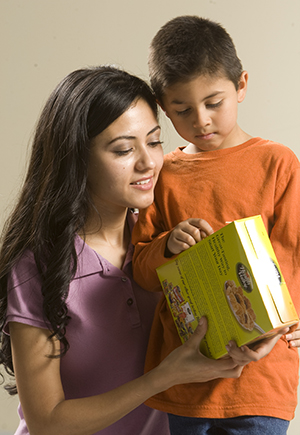 When a child has an egg allergy, eating even a small amount of egg can cause a life-threatening reaction. For that reason, your child must avoid eggs and any foods that contain them. This sheet tells you more about your child's egg allergy. You'll learn what foods your child should avoid, what to look for on food labels, and how to cook without using eggs.
Egg allergy: Foods to avoid
Many of the foods your child eats daily may contain eggs. Some of the most common include:
Many baked goods, such as brownies, cakes, cookies, muffins, pastries, and some pies (cream or meringue). Some children are not allergic to eggs in baked goods; your child's allergy healthcare provider can tell you more

Batter-fried and commercially breaded food such as chicken nuggets

Breadcrumbs and commercial breads made with eggs or brushed with egg whites as a glaze. Avoid any pastry product with a clear glaze.

Custards, puddings, and some ice creams and sherbets (check the label)

Drinks such as eggnog, malted milk, and orange juice blended with milk

Drinks such as root beer, wine, protein drinks, and clarified coffee

Eggs in any form. This means yolks, whites, dried, powdered, and egg solids.

Egg noodles or commercially processed cooked pasta. Most dry, boxed pastas don't contain eggs, but be sure to check the label.

All commercial egg substitutes

Marshmallows, marzipan, and nougat

Mayonnaise, unless the label plainly says it's eggless, and some salad dressings

Meatballs, meatloaf, and some sausages

Meringue

Pancakes and waffles

Clear soups clarified with egg white and soups containing egg noodles

Tartar sauce, hollandaise, and other cream sauces

Frozen vegetables in sauce
What to look for on labels
In addition to the word egg, look for the following on package labels:
The words binder, coagulant, and emulsifier. These can mean a product contains eggs.

Albumin (egg protein)

Mayonnaise

Meringue

Macaroni (may contain egg or egg product)

Marzipan (may contain egg or egg product)

Marshmallow (may contain egg or egg product)

Nougat (may contain egg or egg product)

Pasta (may contain egg or egg product)

Globulin

Lecithin. This is an egg product, but most lecithin in processed foods comes from soy. To be safe, check with the manufacturer.

Livetin

Lysozyme (a protein found in egg white)

Any words beginning with ovo or ova, such as ovalbumin, ovoglobulin, ovomucin, ovomucoid, ovotransferrin, and ovovitellin

Simplesse (a fat replacement)

Vitellin
Allowed foods
Your child can eat these foods without worry:
All cereals and grains, such as oatmeal and rice

All fresh, frozen, or dried fruits and vegetables

Baked, broiled, or roasted meats, fish, and chicken

Beans, lentils, and soups without egg noodles or eggs

Butter, vegetable oil, eggless mayonnaise and salad dressings

Commercial or homemade breads without eggs. Sourdough, French, and Italian baguettes are usually egg-free.

Dairy foods, such as milk, cheese, cottage cheese, and yogurt unless your child's healthcare provider says otherwise

Gelatin, fruit crisp, and ice cream and sherbet made without eggs

Homemade cakes, cookies, muffins, pancakes, and waffles prepared without eggs

Tofu and other soy foods
Common substitutes for egg products
Most natural food stores and some grocery and specialty stores carry egg-free products and egg replacer. Egg replacer doesn't contain eggs and is not the same as an egg substitute. You can also find sources of eggless foods on the Internet.
When baking at home, use one of the following for each egg called for in recipes:
1 teaspoon baking powder, 1 tablespoon water, 1 tablespoon vinegar

1 teaspoon apricot puree

1 teaspoon yeast dissolved in 1/4 cup warm water

1-1/2 tablespoons water, 1-1/2 tablespoons oil, 1 teaspoon baking powder

1 packet gelatin, 2 tablespoons warm water, mixed just before using

1 teaspoon flaxseed meal, 1 tablespoon water
Talk to your child's healthcare provider about vaccines
The flu vaccine and yellow fever vaccine contain traces of egg protein. Ask your child's healthcare provider or allergist whether these vaccines are safe for your child.
There are many areas of ongoing research that focus on understanding allergies and allergic reactions. Check with your healthcare provider about new research findings that may help your child.
If your child has ANY of the symptoms listed below, act quickly!
If one has been prescribed, use an injectable epinephrine right away. Then call 911 or emergency services:
Trouble breathing or a cough that won't stop

Swelling of the mouth or face

Dizziness or fainting

Vomiting or severe diarrhea