When Your Child Has a Cleft Lip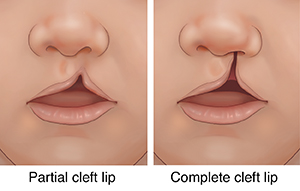 Congratulations on your new baby! Your infant may look different than you had expected. You may be feeling shocked, confused, or worried. You are not alone. In fact, many children are born with a cleft lip, cleft palate (roof of the mouth), or both. In the U.S., about 1 out of every 1,000 children is born with a cleft lip. Your child's lip can be repaired so it looks and works normally.
What is a cleft lip?
The word cleft means split or separation. Your child's upper lip is split because it didn't form properly as he or she developed in the womb. A cleft lip can lead to some challenges, but these challenges can be managed. Once treated, a cleft lip rarely causes long-term problems.
What causes a cleft lip?
You may be worried that you did something to cause your child's cleft lip. The truth is that it is not known why some children's lips do not form normally while in the womb. It is known that it's not your fault or the fault of your healthcare provider. Certain things may make a cleft lip more likely to occur in some children. One of these is family history. If you or someone in your family was born with a cleft lip, cleft palate, or both, your children may be more likely to have a cleft at birth. Your healthcare provider can discuss with you any factors that may have led to the cleft lip.
How is a cleft lip treated?
A cleft lip is repaired with surgery. This surgery is done in the first few months of life and recommended within the first 12 months of life. Depending on how severe the cleft is, your child may need more than one surgery. Your child's doctor will discuss the surgery plan with you. In the meantime, you will be shown how to care for your new baby.
Who will help me care for my baby?
Always remember that you are not alone. A team of specialists will help you care for your child. This team will include some or all of these key members:
Plastic or reconstructive surgeon. A doctor who repairs areas of the body so they appear and function more normally. He or she may do the surgery to repair the cleft lip.

Otolaryngologist. A doctor who specializes in the health of the mouth, nose, and ears. This provider is also called an ENT doctor. In some cases, the ENT doctor may do the surgery to repair the cleft lip.

Genetic specialist. A provider who helps find out whether the cleft lip has been passed down through the family (genetic condition). This helps you know whether children you have in the future are more likely to have a cleft lip, cleft palate, or both. He or she can also diagnose any genetic syndromes or conditions related to cleft lip.

Speech pathologist, occupational therapist, or both. These are providers who help identify and treat speech and language problems. They may discuss feeding issues with you. These may occur along with cleft lip.

Psychologist or social worker. A specialist who helps your child and family cope with emotional, social, and financial issues that may arise because of cleft lip.

Primary healthcare provider. A doctor or other healthcare provider who focuses on the general health needs of patients.

Nurses. Healthcare providers who care for your child in the hospital before, during, and after surgery. Nurses also help with any feeding issues.
Caring for a child with a cleft lip
A child born with a cleft lip has the same needs as other newborns. But meeting these needs can be challenging at times. As parents of a child with a cleft lip, have patience as you find the best way to care for your baby. Some common challenges of caring for a baby with a cleft lip include:
Feeding. Depending on how severe the cleft lip is, your child may have trouble feeding. Special nipples and bottles can help make feeding easier. Your nurse, occupational therapist, or lactation specialist will help you figure out what works best for your baby. They may also help with feeding issues. You won't be sent home from the hospital until your baby is feeding properly and is gaining weight.

Speech. A speech pathologist may work with your child in the future. The speech pathologist will help your child develop proper language and speech skills if needed.

Appearance. Talk with siblings, other family members, and friends about your baby's cleft lip before you introduce the baby. This helps create sensitivity about your baby's condition.
Coping
You may wonder how you'll be able to care for your new baby. This is normal. Remember that your child's cleft lip can be repaired. And most important, remember that your child needs to be loved, touched, and comforted. Support groups are available so you can talk with other parents of children with cleft lips.
Learning more
If you have questions, talk to your child's care team. Also, look in your local library or bookstore for books about cleft-affected children. These online resources can also be helpful:
American Cleft Palate-Craniofacial Association, www.acpa-cpf.org

American Society of Plastic Surgeons, www.plasticsurgery.org/Reconstructive-Procedures/Cleft-Lip-and-Palate.html

Cleft Palate Foundation, www.cleftline.org
Financial concerns
In the U.S., cleft lip repair is usually covered by private insurance or as part of a state or federal program, such as Medicaid. Other programs can also help pay for surgery and related expenses. Talk with your social worker about any financial concerns you have about the care of your child.