What is Hospice?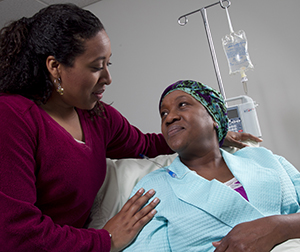 Hospice provides comfort and support to people nearing the end of life. This helps them and their family let go with dignity. Hospice focuses on quality of life. And it helps someone live his or her last days with a sense of control. Hospice programs support both the patient and family. They include physical, emotional, and spiritual services. This sheet tells you more about hospice. It may help you decide if this care is right for you or your loved one.
The goals of hospice
Hospice is a special type of care for people with illness for which there is no cure. Its goal is not to shorten life. Instead, the goal is to give comfort and support to a dying person and his or her loved ones. Hospice care helps to ease disease symptoms, like pain, nausea, and breathing problems. It also helps to meet the emotional and spiritual needs of a dying person. And those of his or her family and friends.
Qualifying for hospice
A person with an illness can go into hospice when a healthcare provider believes he or she has about 6 months or less to live. Hospice care can be used by people in the end stages of cancer, severe lung disease, heart failure, and other diseases. Hospice continues as long as it is needed. If a person's health improves, he or she can end the hospice care and start it again later. Also, a person in hospice has the right to leave hospice care at any time for any reason.
The services of hospice
Hospice is most commonly provided in the home. It can also be offered in the nursing home, assisted living facility, or hospital depending on the person's care needs. Hospice care is provided by an interdisciplinary team, which includes doctors, nurses, and other healthcare professionals. A registered nurse case manager, also known as a RN Case Manager, coordinates care provided by the hospice team. He or she also provides skilled nursing care as needed. The RN Case Manager makes weekly to daily visits based on the needs of the client and his or her family. Hospice also offers access to a social worker, home health aide, counselor, chaplain or another spiritual advisor, and others. If hospice is done at home, family members give day-to-day care. Support is given to the patient and family in many ways. These may include:
Making sure medicines are given for the comfort of the patient

Helping the family set up the home

Supplying medical equipment as needed

Helping the family arrange 24-hour care

Helping the patient and family find emotional, spiritual, and financial resources

Managing contact between the patient, family, and healthcare providers

Bereavement care (helping those in mourning) must be available for a year after the patient's death
Common questions and misunderstandings about hospice
Patients, families, and others may have questions and misunderstandings about hospice care:
Hospice is not a place. It is a model of care, not a physical location. It may be provided in the patient's home, nursing home, or in another institution.

Hospice offers a specific treatment only. Patients receive treatments and interventions to maximize comfort and quality of life. In some cases, patients may continue to receive the same treatments they received before hospice, such as palliative chemotherapy, radiation, and heart failure treatments. In addition, hospice care is flexible in the sense that patients can come and go from hospice at any time. Reasons for this include if it is not meeting their needs or if a new treatment becomes available that is not able to be covered by hospice. Once patients leave hospice, they may return to the program at any time if they qualify, such as being determined by a healthcare provider that these patients only have 6 months or less to live. .

Patients do not need to be actively dying to receive hospice care. Patients must have an estimated 6 months or less to live to receive hospice. 

Do patients have to be DNR to receive hospice? In the U.S., patients are not legally required to have made arrangements for "Do not resuscitate" (DNR) to receive hospice care. Patients must be informed that participating in hospice is a choice to accept that death is looming and that aggressive life-sustaining treatments are not part of hospice. These treatments include ventilator therapy, intensive care, and vasopressors.

What happens if a patient is still alive after 6 months? Around 10% of hospice patients live longer than the 6-month limit. When this happens, the hospice staff must discharge the patient from hospice or process a recertification in which it is explained that the patient is declining through dementia, for example, with death likely within 6 months. Among patients discharged from hospice, a high percentage are hospitalized or die soon thereafter.

Hospice care does not shorten life or bring about death. In fact, hospice patients have been shown to last longer as compared to similarly ill patients who do not receive hospice care. 

Some patients fear that their primary health care provider will abandon them if they choose hospice care. This will not happen because the primary health care provider plays an important role in the care of the hospice patient.    
Who pays for hospice?
Medicare and Medicaid cover hospice care for people age 65 or older. Most health insurance companies also cover hospice care. Hospice is usually available at no extra charge as a free benefit.