What Are Ankle Sprains?
The ankle is one of the most common places in the body for a sprain. Landing wrong on your foot can cause the ankle to roll to the side. This can stretch or tear ligaments. Ankle sprains can occur at any time, such as when you step off a curb or play sports. Once you've had an ankle sprain, you may be more likely to sprain that ankle again.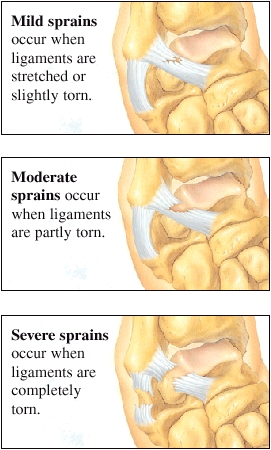 When Ligaments Tear
Your ankle joint is where the bones in your leg and foot meet. Strong bands of tissue called ligaments connect these bones. Tendons cross the ankle and connect muscles in the lower leg to the foot. The ligaments and tendons help keep the ankle joint stable when you move. If you twist or turn your ankle, the ligaments can stretch or tear. This is called a sprain. A sprain can be mild, moderate, or severe. This depends on how badly the ligaments are damaged.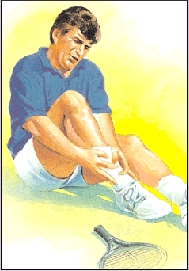 Symptoms
Your symptoms depend on how badly the ligaments are damaged. You may have little pain and swelling if the ligaments are only stretched. If the ligaments tear, you will have more pain and swelling. The more severe the sprain, the less you'll be able to move the ankle or put weight on it. The ankle may also turn black-and-blue, and the bruising may extend into the foot and leg.