Weight Management: Take It Off and Keep It Off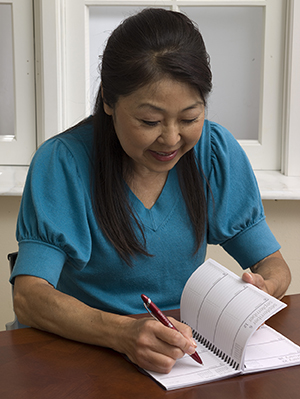 It's easy to be motivated when you first start. The key is to stay motivated all along the way and to have realistic and achievable goals. There are things you can do to keep yourself on the path to success.
Don't focus on daily weight gains and losses. Instead, weigh yourself no more than once a week at the same time of day. Weighing yourself each day will probably only frustrate you. Find a friend who also needs to lose some weight and you can encourage each other.
Stay motivated
Here are suggestions to keep you motivated: 
Remind yourself of your goals. Post them near the refrigerator or desk where you work.

Make daily entries in your diary or journal about your activity and eating. A visual reminder of success, like a gold star, can help keep you going.

Every week, take time to look back on how much you've accomplished, and the changes you may have made.

Try taking a nutrition class. It can help you learn new shopping, cooking, and eating skills, and also meet new people. You might try a low-fat cooking or yoga class.

Don't be hard on yourself or give up if you slip. Be patient. Learn from your mistakes and adjust your plan if you need to. Then get right back to it.

Be realistic about your goals. Talk with a dietitian or your healthcare provider about what goals are reasonable for you. 
Believe that you can do it
How you think about yourself is just as important as what you do. If you don't think you can succeed, chances are you won't. Believe that you can stick to your plan and meet your goals:
If you don't meet a goal, don't use it as an excuse to give up on your whole plan. Adjust your goal and try again.

Try to understand your own attitude about food.  Are you subject to emotional eating?

Learn how to accept compliments. Even if you get embarrassed, just say "thank you."

Make a list of the things that others like about you and that you like about yourself. Add something new from time to time. Keep this list to look at when you need a lift.
Resources
The President's Council on Fitness, Sports & Nutrition

www.fitness.gov

Academy of Nutrition and Dietetics

www.eatright.org

Healthfinder

www.healthfinder.gov